The Snowmelt River by Frank P. Ryan
Author:Frank P. Ryan [Ryan, Frank P.] , Date: March 14, 2016 ,Views: 155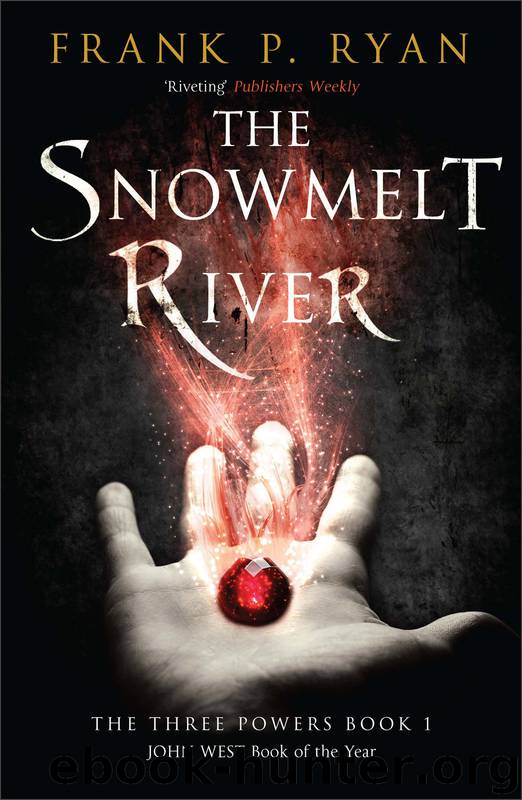 Author:Frank P. Ryan [Ryan, Frank P.]
Language: eng
Format: epub, mobi
Publisher: Jo Fletcher Books
Published: 2012-11-03T23:00:00+00:00



Mo's Secret
At times her mind wandered so that Mo could almost convince herself that it was just a nightmare, but then a sudden cramping pain in her feet wrenched her back to the terrifying reality of darkness and fear.
I'm buried alive in a pit in the ground.
She had screamed out Alan's name, again and again, searching for the communication mind-to-mind of the triangle in his brow, but he hadn't answered.
Alan was not going to come and rescue her.
The realisation that he would not be coming provoked such a giddy wave of panic she had to cast her mind wide again, to call out, hoping he would hear her and come for her. But there was no sign that he heard her, no answer except the pounding of her heartbeat. It must be night above the ground but she couldn't really tell because down here it was pitch dark all the time. The last thing she remembered was the thin man's face leering cruelly down at her from the small opening above her head before the soldiers had dragged a slab of stone over the pit, followed by noises that told her they were covering the stone with debris and snow, hiding her away so that nobody in the world would ever find her.
It made her remember the many times Grimstone had locked her in the dark cellar at home.
The first time she had been only three years old, and she had searched for a box to stand on so she could look for the light in the low ceiling. The bulb socket had been empty and her finger had gone up into it, throwing her through the air with an electric shock. At the memory, gooseflesh erupted over her skin. And such a wave of terror came over her that she closed her eyes tightly and dared not open them after that. This time it wasn't just a night in the cellar.
Why is this happening? What have I done to deserve it?
Mo recalled what had happened on the deck of the ship. How Mark had frightened her and Kate during the storm on the river. From the first moment of seeing him come out of the door, with his white face and tormented eyes, she had felt such an ominous feeling. In the past, when Grimstone had made her afraid, she had found strength inside her. Now she recalled what Alan had done to Siam at the ice-bound lake. He had awakened the soul spirit of the grizzly bear in Siam. She wondered if the part of her she had sometimes sensed, like a source of strength inside her, was her own soul spirit. Right there, on the lurching and heaving deck, she had sensed the wrongness of what was about to happen in that part of her – she had sensed it so strongly, so awesomely, that it was very hard to imagine that the dark would ever go away, as it always had in the past … that things would ever be all right again.
Download


Copyright Disclaimer:
This site does not store any files on its server. We only index and link to content provided by other sites. Please contact the content providers to delete copyright contents if any and email us, we'll remove relevant links or contents immediately.