The Plot by Jean Hanff Korelitz
Author:Jean Hanff Korelitz [Jean Hanff Korelitz] , Date: April 9, 2021 ,Views: 56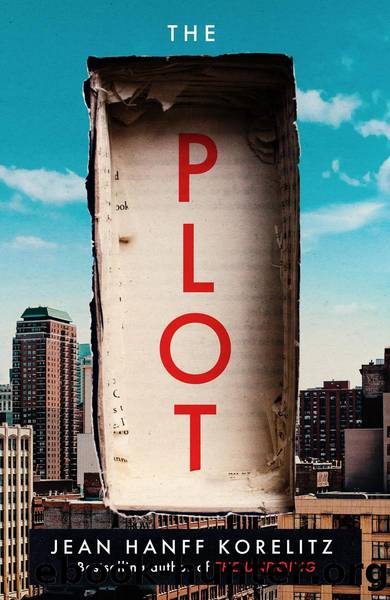 Author:Jean Hanff Korelitz [Jean Hanff Korelitz]
Language: eng
Format: epub
ISBN: 9780571368105
Publisher: Faber & Faber
Published: 2021-04-14T22:00:00+00:00



CHAPTER NINETEEN
The Only Place Left to Go
Anna wasn't interested in anything elaborate, and neither of them saw any point in waiting. They went to the diamond district and she chose something called an "estate" ring (which meant "secondhand" with a nicer name, though it did look very pretty on her finger), and less than a week after that they were at city hall, waiting on the hard benches with all of the other couples. After a bespectacled official named Rayna pronounced them married, they walked a few blocks to Chinatown for what would serve as their wedding party. (On Jake's side: his parents and a couple of cousins, and two or three of his Wesleyan and MFA friends. On Anna's: a colleague from the podcast studio and a couple of the women she'd met at yoga.) They occupied two round tables in the back of a Mott Street restaurant, each with a lazy Susan of dishes in the middle. Jake and Anna brought champagne.
The following week, Matilda took them out to the new Union Square Cafe to celebrate, and Jake arrived a few minutes late to find his agent and his new wife with their heads together, gossiping over pink-salt-rimmed margaritas as if they'd known each other for years. "Oh my god," he heard one of them say as he sat beside Anna in the booth. He wasn't even sure which one had spoken.
"What?"
"Jake!" said his agent with unprecedented reprove, "you didn't tell me your wife worked for Randy Johnson."
"Uh … no," he confirmed. "Why?"
"Randy Johnson! Soundtrack of my adolescence. You know I grew up in Bellevue!"
Did he know that? He didn't, actually.
"I met him once," Matilda went on. "I went on his show with a friend of mine, because we were organizing a fun run for some worthy cause. Actually the worthy cause was probably getting-the-two-of-us-into-Ivy-League-schools, but never mind about that. My dad drove us to the station. I don't think it was the one he's at now."
"Probably KAZK," said Anna.
"Yeah, maybe. Anyway, he hit on the both of us, one after the other. On the air! We were sixteen!"
"Well-known lech," Anna observed.
"My dad was right there in the studio!" She held up her beautifully manicured hands in shock. She had buttery blond hair, expensively tended, and looked every inch the busy, accomplished, and well-compensated Manhattan woman she was. Beside her, Anna, with her silver braid, unpainted nails, and casual work sweater, seemed notably younger and immeasurably less sophisticated.
"He wouldn't do it today, probably," Anna was saying. "He'd wait till the dad was in the bathroom."
"Like, how has this guy not been Me Too'd out of his misery yet?"
"Well, I think it's come up. I know it has, actually. Even while I was there, there was some issue with an intern. But she denied it and he kind of slithered through. And anyway, he's an institution. Sorry, Jake. You have to forgive us, cackling away."
"I just met your wife," said Matilda, "and I want to cackle away with her in perpetuity.
Download


Copyright Disclaimer:
This site does not store any files on its server. We only index and link to content provided by other sites. Please contact the content providers to delete copyright contents if any and email us, we'll remove relevant links or contents immediately.