The Einstein Equation by Preston William Child
Author:Preston William Child [Child, Preston William] , Date: August 6, 2020 ,Views: 329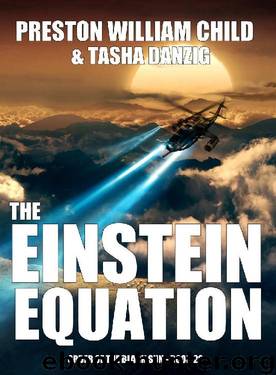 Author:Preston William Child [Child, Preston William]
Language: eng
Format: epub
Published: 2017-10-13T07:00:00+00:00



16
Dr. Jacobs and the Einstein Equation
Kasper was dancing with his new crush, the stunning, but clumsy, Olga Mitra. He was ecstatic, especially when the family invited them to stay and enjoy the wedding reception Olga brought the cake for.
"This day certainly turned out great," she laughed as he playfully twirled her and tried the dip thing. Kasper could not get enough of Olga's high pitched, soft giggles, filled with elation.
"I agree on that," he smiled.
"When that cake started to topple," she confessed, "I swear, I felt my entire life fall to pieces. It was my first job here, and my reputation was at stake…you know how it goes."
"I know," he empathized. "Come to think of it, my day was shit until you happened."
He did not think of what he was saying. Pure honesty spilled from his mouth, the measure of which he only grasped a moment later, when he found her dumbstruck, staring into his eyes.
"Woah," she said. "Kasper, that is the most amazing thing anyone has ever said to me."
He just smiled, while inside him fireworks went off. "Yeah, my day could have turned out a thousand times worse, especially from the way it started." Suddenly Kasper was hit by clarity. It smacked him right between the eyes with such force that he almost blacked out. At once, all the warm-hearted, good stuff of the day flew out of his mind, to be substituted with what wracked his brain all night before he heard Olga's fateful sobbing outside his door.
Thoughts of David Purdue and the Dire Serpent surfaced instantly, penetrating every inch of his brain. "Oh Christ," he scowled.
"What is wrong?" she asked.
"I forgot about something very important," he admitted, feeling the ground sink from under him. "Do you mind if we go?"
"Already?" she moaned. "But we have only been here thirty minutes."
Kasper was not a temperamental man by nature, yet he raised his voice to convey the urgency of the situation, to impress the weightiness of the predicament. "Please, can we go? We came with your car, otherwise you could have stayed longer."
"Jesus, why would I want to stay longer?" she snapped at him.
'Great start to what would have been a lovely relationship. That, or this is true love,' he thought. But her aggression was actually sweet. "I only stayed this long to get to dance with you? Why would I want to stay, if you were not here with me?"
He could not be angry at that. Kasper's emotions were running the gamut with the beautiful woman and the looming destruction of the world in brute opposition. Eventually he took the hysteria down a notch to implore, "Can we please just go? I have to get in touch with someone about something very important, Olga. Please?"
"Of course," she said. "We can go." She took his hand and rushed away from the crowd with a giggle and a wink. Besides, they already paid me."
"Oh good," he replied, "and here I was feeling bad."
They rushed out and Olga drove back to Kasper's house, but someone else was already waiting for him there, sitting on his front porch.
Download


Copyright Disclaimer:
This site does not store any files on its server. We only index and link to content provided by other sites. Please contact the content providers to delete copyright contents if any and email us, we'll remove relevant links or contents immediately.