The Bad Boy's Secret Romance by Jessie Gussman
Author:Jessie Gussman [Gussman, Jessie] , Date: April 10, 2021 ,Views: 40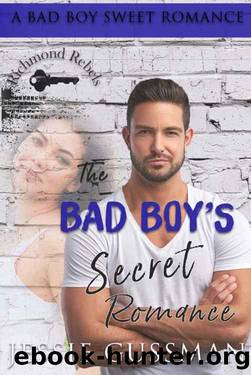 Author:Jessie Gussman [Gussman, Jessie]
Language: eng
Format: epub
Publisher: Jessie Gussman
Published: 2020-02-25T06:00:00+00:00



Chapter 11
Thad stood beside his pickup, his arms crossed across his chest, his back leaning against the bed, hoping he wasn't making a big mistake.
Justice might not want to go with him, and he supposed he would be a little embarrassed. The way it looked now, though, she might not even show up. She wasn't just late; she was really late.
But he didn't have anything else to do. Nothing pressing. He'd done some extra work in the shop after everyone else left, and he'd gone home and taken care of Beau, feeding and watering and walking, before he'd dug out the old raft in his basement, checked for holes, and blew it up.
He had to tie it down, so it didn't blow out of the pickup bed as he drove to the trail, but that wasn't any big deal. When they'd been younger, he'd done it a good bit with his brothers.
Now, he liked the idea of doing it with Justice.
He wasn't sure how she'd feel about it. But it was hot enough, with humidity so deep and thick it lay on his shoulders like a tangible thing.
He'd been spending so much time thinking about Justice he hadn't thought too much about the shop and the contract they were hoping to get. There wasn't too much he could do to help get it. It was just a matter of waiting.
And Blade seemed preoccupied. A lot of times they did some work together in the evenings, extra work on the side that they did beyond the shop work.
But Blade was walking Libby home. Libby, Justice's sister. Seemed to Thad that if Blade could walk Libby home, Justice shouldn't have any problem being seen with Thad in public. It was something he wanted to talk to her about.
Headlights interrupted his thoughts, and he didn't have trouble recognizing the low-slung outline of Justice's sports car. It suited her. He smiled.
He was at her door when she shut the motor off.
Since she showed up here, she must not be mad at him for giving her a note on the pretense of picking up garbage.
It hadn't been hard to grab a square of paper off the table along the wall, scribbling two words on it while she was talking to Bernice and Barry was talking to Andrew. He could hardly stop himself from doing it. He'd wanted to do something to connect with her, since he knew he couldn't talk to her, not like he wanted to.
He'd thought about their kiss from last night all day, especially when he saw her in Barry's office.
But he wasn't really planning on kissing tonight. Maybe before she left. He smiled. Definitely a good-night kiss. He could spend the whole night doing that, but it wasn't a good idea, and he knew it. There needed to be more to their relationship than kissing.
Hopefully, she agreed.
He opened her door, and she stepped out, wearing shorts and a T-shirt. Perfect.
"Sorry I'm late."
"You said you were going to be. I expected it. Although maybe not this late.
Download


Copyright Disclaimer:
This site does not store any files on its server. We only index and link to content provided by other sites. Please contact the content providers to delete copyright contents if any and email us, we'll remove relevant links or contents immediately.