Taming His Pup by H.C. Brown
Author:H.C. Brown [Brown, H.C.] , Date: October 14, 2020 ,Views: 533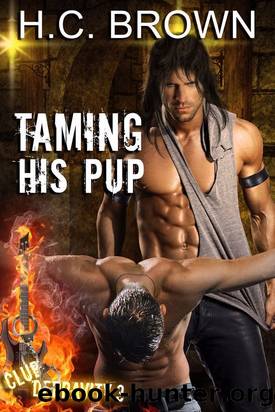 Author:H.C. Brown [Brown, H.C.]
Language: eng
Format: epub
Tags: Erotic Gay Romance
Publisher: Luminosity Publishing LLP
Published: 2015-10-14T16:00:00+00:00



Shayd held the book in front of his straining erection and went to the self-checkout. He swiped his card and scanned the book. The image of Ben's luscious mouth wrapped around his aching shaft hammered his subconscious. His hand still tingled from touching the smooth flesh of his ass. He wanted to taste his soft mouth again, and explore every erogenous zone with his tongue. Damn, his ass was so tight, how long had it been since he'd had a man? With effort, he dragged his mind back to the now. He'd planned every move to achieve his goal and win this sub for his own. Slowly, take it slow or you'll frighten him away. He glanced at the counter, concerned Ben hadn't returned to his desk. Perhaps, he should go and check on him. He hovered in the foyer, indecision preventing his leaving as planned. Then he saw him disappearing into the restrooms, his cute butt outlined deliciously in the tight jeans. He drew a deep breath and headed for the front door.
His cell vibrated. He reached inside his pocket then scanned the caller ID. "Jackson, what is it, man?"
"Do you remember our discussion, about taking Ben to witness a scene, to get his juices flowing?" Jackson sounded amused. "Because, I've asked that guy I mentioned and he is more than willing to comply. No sex, but the guy will want to jerk off during the session. His name is BJ, and I'm told he gives great head. BJ is one of Brandon's regulars, but he is taking the night off to go see his mom for his birthday."
"I dunno. That's gonna be pushing the trust factor a bit early, don't you think? I want Ben to trust me from the get go, seeing me with another sub might push him in the wrong direction."
"Ha, he craves exhibitionism." Jackson snorted. "Trust me, he will submit to anything you want if you feed his fetish."
Anger rippled through him. "You know, if we didn't go way back, I'd tell you to fuck off and mind your own business."
"Depravity isn't a holiday camp, Shayd. We're all here to get off on scenes, and this was your idea. You're not getting soft on me, are you?"
Shayd ran a hand through his hair. He stared unseeing at the stream of cars on the road. Why did he suddenly feel like doing this would be cheating on Ben? He pushed the thought aside, after all, he had mentioned taking Ben to his dungeon to watch him with a sub and his pup hadn't complained. Fuck, Ben had signed the contract, so why did he feel like an asshole? He'd talk to him tonight to make sure this kind of scene didn't affect his fledgling, trust in him. Damn it, he enjoyed his time with the house subs, but after the scene in the library, he did not intend to fuck up his chance with Ben. Aware of Jackson's silence on the other end of the line, he cleared his throat.
Download


Copyright Disclaimer:
This site does not store any files on its server. We only index and link to content provided by other sites. Please contact the content providers to delete copyright contents if any and email us, we'll remove relevant links or contents immediately.