Straub, Peter - Mystery by Straub Peter
Author:Straub, Peter [Straub, Peter] , Date: July 24, 2020 ,Views: 325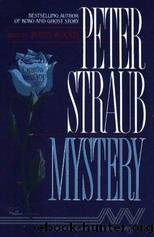 Author:Straub, Peter [Straub, Peter]
Language: eng
Format: epub
ISBN: 9780307773968
Publisher: Knopf Doubleday
Published: 1989-12-01T05:00:00+00:00



Main Street was lined with gift shops, lunch counters, drugstores, liquor stores, cafés with names like The Red Tomahawk and The Wampum Belt, a shop that sold flyrods and hand-tied flies, a bijou little shop that sold Swiss watches and gold jewelry, an ice cream and candy store, shops that sold post cards and calendars with pictures of kittens in pine trees, a photographer's studio, an art gallery with paintings of ducks in formation and Indians around campfires, and two gun shops. Three small interconnected stores sold T-shirts with tourist slogans, wooden I Pine Fir Yew ashtrays, and kachina dolls. Cars parked on the bias. Jeeps and station wagons crowded with children rolled up and down the street, and families in short pants, fingernail polish, Indian headdresses, and Greek shepherd shirts carried plastic shopping bags printed with images of pine trees and leaping fish down plank sidewalks with hitching posts.
The two-story fieldstone building that housed the Eagle Lake Gazette stood between a wooden post office and the bow-fronted library at the top end of Main Street, where the tourists generally turned back to see if they had missed anything. A little fortresslike police station clung like a granite limpet to the side of the Victorian town hall across the street, and at the end of town hall was a large white sign reading EAGLE LAKE THANKS YOU FOR VISITING, and a smaller one that said MOOSE LAKE 6 MILES, LOST LOON LAKE 12 MILES, NORTH POLE 2,546 MILES. VISIT THE AUTHENTIC INDIAN SETTLEMENT.
Tom entered the newspaper office and went up to a wooden counter. A man with a bow tie and thinning brown hair fiddled with a pen and a stack of galleys at an overflowing desk; behind him, a tall skinny man in a plaid shirt and an eyeshade played a linotype machine like a pipe organ. The man in the bow tie crossed out a sentence on a length of galley, looked up and saw Tom. He pushed himself away from the desk and came up to the counter.
"Do you want to place an ad? You can write it out on one of these forms, if I can find them under here somewhere.…"
He bent to look under the counter, and Tom said, "I was hoping I could look through some old copies of your paper."
"How old? Last week's are on the rack beside the davenport there, but anything older gets put into binders and shelved in the morgue upstairs. You just want to see the paper, or are you looking for something in particular?" He looked back at his desk and the stack of galleys. "The morgue isn't really one of our tourist attractions."
"I wanted to see recent copies that would have stories about the local burglaries, especially the one at Barbara Deane's house, but as many of them as I could read about, and I also wanted to look at papers from the summer of 1925 that would deal with the Jeanine Thielman murder."
"What are you?" The
Download


Copyright Disclaimer:
This site does not store any files on its server. We only index and link to content provided by other sites. Please contact the content providers to delete copyright contents if any and email us, we'll remove relevant links or contents immediately.