Rise of the Huntress (The Spook's Nightmare) by Joseph Delaney
Author:Joseph Delaney [Delaney, Joseph] , Date: June 8, 2017 ,Views: 492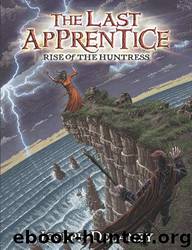 Author:Joseph Delaney [Delaney, Joseph]
Language: eng
Format: epub
Tags: General, Fiction, Juvenile Fiction, Fantasy & Magic, Horror & Ghost Stories, Supernatural, Witches, Apprentices, Business; Careers; Occupations
ISBN: 9780061715105
Publisher: HarperCollins
Published: 2010-11-15T05:00:00+00:00



'Quick, Tom. Go down and warn him!' Alice cried as she saw the Spook walking towards the tower. 'What chance has he got against Lizzie now?'
'Come with me,' I said, tugging at her arm.
'No, I'll stay here and keep her royal highness occupied. I'll ask her if she wants more hot water. The longer we keep her in that bath, the more chance Old Gregory will have. Don't you worry, I'll be fine.'
I didn't like leaving her with Bony Lizzie but I had little choice. What Alice said made sense. Maybe she could distract the witch. I knew I had to warn my master. If he came up not realizing how strong Lizzie was now, he could end up either dead or in the dungeons, food for the buggane.
So I left Alice and began to run down the steps as fast as I could. I met the Spook as he was coming through the guardroom. We almost collided.
'Steady on, lad!' he cried.
'Lizzie's really powerful now!' I said, struggling to catch my breath. 'She can freeze you with a word. She stopped me from getting my chain out of my pocket!'
The Spook leaned his staff against the guardroom table and took a seat. 'I thought there must be something different about the witch. There's a small army out there and yet they don't feel able to walk in through the gate and deal with her. They think the shaman's dead. Is that so?'
I nodded. 'Lizzie took his bones.'
'So that's one less servant of the dark to worry about … Lizzie's got the yeomen scared all right – they've resorted to sending me in to deal with her – a spook, and a foreigner to boot. These people have always been fiercely independent, so they must be desperate.'
'She's talking about becoming Queen of Mona …' I told my master.
He raised his eyebrows at that. 'So tell me all about it. Take your time and leave nothing out—'
'But she's having a bath right at this moment. This could be your best chance!'
'Bony Lizzie having a bath? Now I've heard it all!' said the Spook, giving me a rare smile. 'But I won't take another step until I know what's what. Sooner you start, lad, the sooner you'll finish!'
So I did as he asked. I told him about Alice and Lizzie's lips being stitched and the buggane's tunnels leading into each cell. Then about the fight and our escape, and then how she'd crooned to the buggane; finally about facing the dogs, the appearance of Bill Arkwright's ghost and the shaman's death.
My master shook his head. 'She's certainly got delusions of grandeur – though she's dangerous all right. Poor Bill … at least once we've sorted Lizzie, he'll be able to break free.
'But this is as bad as it could be, lad. I've been sent in here to sort out that witch, but once it's done, they won't need me any more. There'll be a new master of Greeba Keep and things will go on much the same as ever.
Download


Copyright Disclaimer:
This site does not store any files on its server. We only index and link to content provided by other sites. Please contact the content providers to delete copyright contents if any and email us, we'll remove relevant links or contents immediately.