Richard Marsh by Collected Stories
Author:Collected Stories [Stories, Collected] , Date: August 6, 2022 ,Views: 4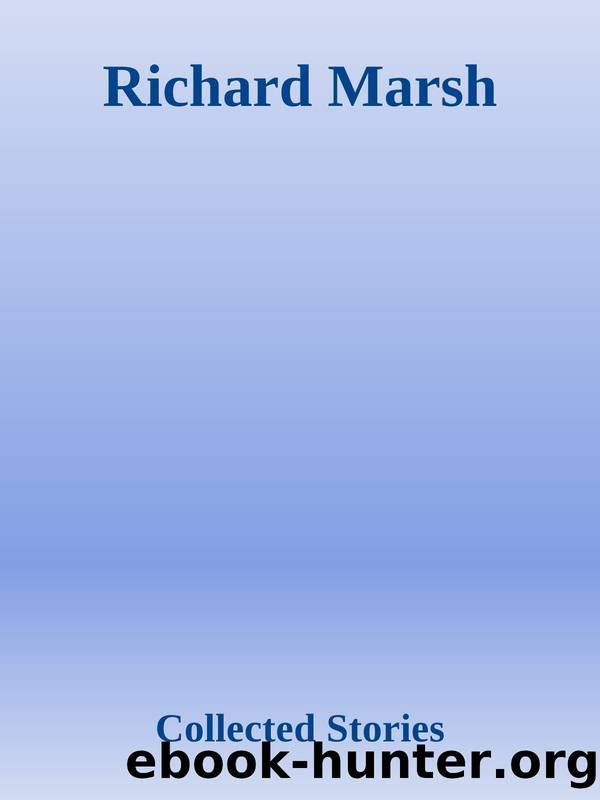 Author:Collected Stories [Stories, Collected]
Language: eng
Format: epub
Tags: Supernatural Fiction, Weird fiction, Horror, Crime and Mystery, Murder, Fiction, Humor, crime, mystery, suspense, Boys' Adventure Stories
Published: 0101-01-01T00:00:00+00:00



* * *
The Irregularity
of the Juryman
* * *
— I —
THE JURYMAN IS STARTLED
His first feeling was one of annoyance. All-round annoyance. Comprehensive disgust. He did not want to be a juryman. He flattered himself that he had something better to do with his time. Half-a-dozen matters required his attention. Instead of which, here he was obtruding himself into matters in which he did not take the faintest interest. Actually dragged into interference with other people's most intimate affairs. And in that stuffy court. And it had been a principle of his life never to concern himself with what was no business of his. Talk about the system of trial by jury being a bulwark of the Constitution! At that moment he had no opinion of the Constitution; or its bulwarks either.
Then there were his colleagues. He had never been associated with eleven persons with whom he felt himself to be less in sympathy. The fellow they had chosen to be foreman he felt convinced was a cheesemonger. He looked it. The others looked, if anything, worse. Not, he acknowledged, that there was anything inherently wrong in being a cheesemonger. Still, one did not want to sit cheek by jowl with persons of that sort for an indefinite length of time. And there were cases – particularly in the Probate Court – which lasted days; even weeks. If he were in for one of those! The perspiration nearly stood on his brow at the horror of the thought.
What was the case about? What was that inarticulate person saying? Philip Poland knew nothing about courts – and did not want to – but he took it for granted that the gentleman in a wig and gown, with his hands folded over his portly stomach, was counsel for one side or the other – though he had not the slightest notion which. He had no idea how they managed things in places of this sort. As he eyed him he felt that he was against him anyhow. If he were paid to speak, why did not the man speak up?
By degrees, for sheer want of something else, Mr. Roland found that he was listening. After all, the man was audible. He seemed capable, also, of making his meaning understood. So it was about a will, was it? He might have taken that for granted. He always had had the impression that the Probate Court was the place for wills. It seemed that somebody had left a will; and this will was in favour of the portly gentleman's client; and was as sound, as equitable, as admirable a legal instrument as ever yet was executed; and how, therefore, anyone could have anything to say against it surprised the portly gentleman to such a degree that he had to stop to wipe his forehead with a red silk pocket-handkerchief.
The day was warm. Mr. Roland was not fond of listening to speeches. And this one was – well, weighty. And about something for which he did not care two pins.
Download


Copyright Disclaimer:
This site does not store any files on its server. We only index and link to content provided by other sites. Please contact the content providers to delete copyright contents if any and email us, we'll remove relevant links or contents immediately.