Lady London: Heels, Rhymes, & Nursery Crimes by Kimmie Easley
Author:Kimmie Easley [Easley, Kimmie] , Date: April 8, 2021 ,Views: 25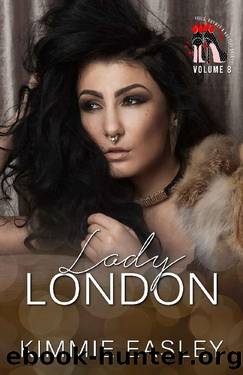 Author:Kimmie Easley [Easley, Kimmie]
Language: eng
Format: epub
Publisher: Wine Worthy Romance
Published: 2021-04-07T16:00:00+00:00



*
I stare at the lump of meat and hope that my substitutions hold up. The two-pound slab of beef appears fine from the outside.
Perfect even.
Hopefully, Reed can't tell that I used white vinegar instead of red wine. And regular mustard because who the hell keeps Dijon on hand? The slaw wasn't too difficult. I was going to make some fancy, schmancy potatoes but opted out when I realized an old bottle of fish sauce wouldn't work for teriyaki. Maybe he has a right to be worried. I mean who doesn't crush garlic with a full can of beer?
I read somewhere to let the tri-tip sit before cutting into it, so I set my tiny, round table. I play around with the décor before ditching the placemats altogether, hoping to keep from letting on just how hard I'm trying.
My heart jumps into my dry throat when I hear the thud of his heavy boots.
Damn, I love that sound.
Even though I know it's coming, the knock expels the air from my flat lungs.
I feel silly, checking my reflection in the kitchen window. Pinching my cheeks to add a little color to my vampire-white face.
This is stupid.
"Come in," I say, but he's already cracking the door. "Hey, in here." I pour me a single malt and pop the top on a beer for him. "Have a seat."
"Smells good." He sits, but not before I notice the fresh crease in his Levi's.
It tickles my heart to spot his effort, and my nerves are set on fire with a new realization.
Tonight really is different, and he agrees.
He takes a long slug off his drink, and I do the same. My parched lips are grateful for the liquid.
He cleans the suds from his mustache. "Why is this so weird?" He asks through an awkward chuckle.
I fall back in my chair and sigh. "Shit, I don't know. This is why I don't like to label things."
Reed rubs both hands together and swipes his tongue along his lips. "Well, why don't we start with this gourmet meal you've prepared." He pulls up his hungry gaze. "Thanks, by the way." Grabbing the large blade, he asks. "May I?"
"Of course, please." My eagerness sends blood rushing up the back of my neck. I want to kick my own ass as I watch him struggle to slice the meat.
He must notice my horrified expression because he splinters off a large hunk and pops it straight into his gaping mouth.
My pride takes a beating when he's forced to chew longer than expected. He squints, scrunching up his face, finally searching for a paper towel to spit out my homemade supper, and I am officially horrified.
"Oh," he coughs. "Shit, I'm sorry. Is that vinegar?"
His reaction makes my toes go numb, with all of my emotion bubbling to the surface and bringing moisture with it. Prompting me to swipe at my damp eyes.
Reed steers my shoulders around to face him "Damn, girl, that's a lot of tang."
The tears erupt, spilling down my trembling cheeks, and I hate myself for being caught up in my damn feels.
Download


Copyright Disclaimer:
This site does not store any files on its server. We only index and link to content provided by other sites. Please contact the content providers to delete copyright contents if any and email us, we'll remove relevant links or contents immediately.