How to Make Good Things Happen by Marian Rojas Estape
Author:Marian Rojas Estape , Date: June 11, 2021 ,Views: 80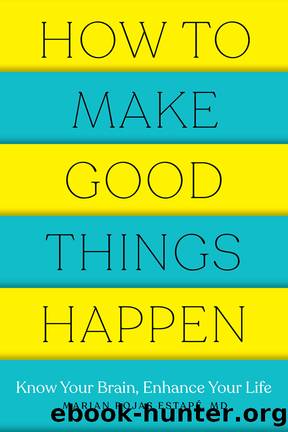 Author:Marian Rojas Estape
Language: eng
Format: epub
Publisher: Countryman Press
Published: 2021-04-09T00:00:00+00:00



JUST CURIOUS, WHY DOES COFFEE KEEP YOU AWAKE?
Strange, but very interesting. Let's see. Any activity we carry out—working, studying, practicing a sport, moving around—requires the use of energy. What is our physical energy called? Its name is ATP—adenosine triphosphate. Each cell nourishes itself on molecules of this substance, principally furnished by what we eat. When we engage in exercise, work, study, or thought, we make use of ATP, which the body consumes little by little.
Every time we use an ATP molecule, it's broken up and divided: it can shed up to three molecules of phosphate, leaving one of adenosine. This adenosine molecule is important for rest, because it brings on sleep. The brain contains sensitive receptors, specialized for adenosine. If levels of the molecule are elevated, our body perceives a feeling of sleepiness, and our sleep will be deeper. The body—which is very wise—uses this system to generate a sensation of tiredness and induce sleep after exertion, exercise, and study. There are other molecules responsible for the process of repose, but elevated levels of adenosine have huge repercussions on sleep and help us experience better rest.
What role does coffee play? This is where caffeine enters the picture: the anti-sleep molecule par excellence. It was discovered by the German chemist Friedlieb Ferdinand Runge in 1819.
It has a strong resemblance to adenosine and is what we call a non-selective antagonist to adenosine receptors; this means that consuming caffeine blocks the brain receptors sensitive to adenosine. At that point the brain is no longer receiving the signal that it's tired, and so it can stay awake longer, working or carrying out other activities.
Download


Copyright Disclaimer:
This site does not store any files on its server. We only index and link to content provided by other sites. Please contact the content providers to delete copyright contents if any and email us, we'll remove relevant links or contents immediately.