Dreams of Tuscany by Kate Fitzroy
Author:Kate Fitzroy [Fitzroy, Kate] , Date: October 29, 2022 ,Views: 310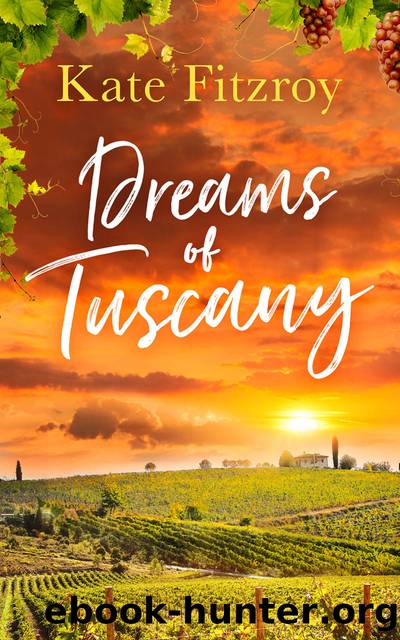 Author:Kate Fitzroy [Fitzroy, Kate]
Language: eng
Format: epub
ISBN: 9781472096289
Publisher: HarperCollins Publishers
Published: 2014-10-14T16:00:00+00:00



CHAPTER ELEVEN
It was Fidele that woke her in the morning. He was standing beside the bed with one of Zoe's trainers in his mouth.
'Go away, Fidele…it can't possibly be morning.' Even as she spoke she could feel the sun glaring through her bedroom window. She sat up and reached out for her bedside clock.
'Oh my God, you're right, Fidele! Ten o'clock! But I never sleep past seven!'
Fidele pushed the trainer towards her and wagged his tail.
Zoe looked around the room. The bedclothes were strewn across the floor and her clothes formed a trail to the door. She put the clock back on the bedside table and then noticed a note on the bedside table.
'Dearest sweetest Zoe, You have cast a magic spell over me, restoring me to life. Zoe meaning Life…it is the perfect name for you! We'll pick you up at noon as arranged.'
Zoe raised the note to her lips as she slowly became fully awake.
'Thank goodness you woke me, Fidele. I must phone Serena and tell her they all want to come to lunch.'
She reached out for the phone and lay back against the pillows as she dialled. She imagined the scene at the other end of the phone, the Santini family gathered for breakfast round the long table in the kitchen.
'Pronto!' Serena's voice answered.
'Ciao, Serena, sono Zoe, come stai?'
'Benissimo, cara and more important, how are you? Paolo is worried out of his head about you and tells me all sorts of confused stories about your love life. One minute he tells me your heart is broken and the next you are happier than he has ever seen you. So, tell me…di mi tutto!'
'I think Paolo has made a very good job of it…but seriously everything is fine…more than fine.'
'I am so pleased…is it true also that he has invited your Mr. Knight in shining armour, his daughter and his sister to lunch here?'
'Well, actually Paolo told me it was all your idea but I was just phoning to check… I know you don't usually like to get involved with clients at home…and especially on your precious Sunday…' Zoe ended hesitantly.
'Are you joking? I am dying to meet your Knight and his entourage… Anyway, from what Paolo has led me to believe, I understand they are not just clients. No, seriously Zoe, we expect you around one o'clock and look forward to it.'
'Is there anything I can bring?'
'No…hold on, Matteo is spreading jam on his sister….'
'Zoe, this your boss, Signor Paolo Santini speaking now…my wife is a saint and a martyr. You can bring the dessert and your beautiful self and as many Knights as you can find…oh yes, also Fidele and bikinis and…'
'OK, Zoe, this is Serena again…my husband is out of control…the children are taking him for a swim. See you soon. Ciao, ciao!'
'Ciao, Serena…a presto! Grazie tante!'
Zoe put the phone down, smiling as she realised it was impossible to quite imagine the scene going on in the Santinis' home at any given time. They were a delightful unknown quantity.
Download


Copyright Disclaimer:
This site does not store any files on its server. We only index and link to content provided by other sites. Please contact the content providers to delete copyright contents if any and email us, we'll remove relevant links or contents immediately.