Dark Whispers From Beyond by Lucas I. T
Author:Lucas, I. T. , Date: September 22, 2022 ,Views: 61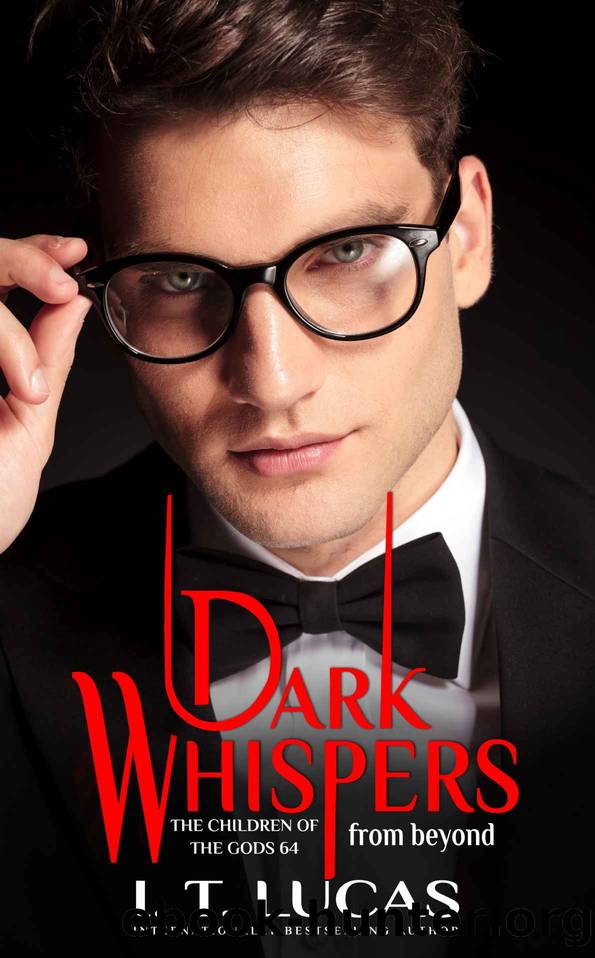 Author:Lucas, I. T.
Language: eng
Format: epub
ISBN: 9781957139296
Publisher: Evening Star Press, LLC.
Published: 2022-08-20T00:00:00+00:00



42
WILLIAM
Once dinner was over, Kian rose to his feet. "Who wants to join me for a cigar outside?"
William wasn't a smoker, but he wanted to ask Kian whether he'd talked with Annani, and he hadn't had a chance to do it privately yet. Now that Kaia was possibly transitioning, he wanted the Clan Mother to be near.
She seemed fine, so it didn't seem urgent, but things could change in the blink of an eye.
Looking at Kaia across the table, he didn't know what to think. After dinner, she had moved to sit next to her mother, and she seemed a little better, but he had to make sure she would be okay without him for a few minutes.
He waited for a lull in the conversation before walking over and putting his hand on her shoulder. "I'm going outside with Kian. Will you be okay without me?"
She smiled weakly. "I'll manage. The question is, will you? You don't smoke."
Her smart eyes communicated that she knew his desire to join Kian had nothing to do with cigars.
"I'm going to keep Kian company while he smokes. Some of our best ideas have come to us over his cigars."
"Have fun." She blew him a kiss.
Gilbert rose to his feet. "I'll join you."
"Do you smoke?" William asked.
"Only occasionally." He put his hand on William's back. "If Kian is offering cigars, I'm not going to say no."
"Same here," Andrew grinned. "It's conducive to brotherly bonding. Right, Dalhu?"
"Right." William looked over his shoulder to see whether Toven and Eric were joining them as well, but they had chosen to stay behind.
Outside, Kian motioned to the four armchairs facing a fire pit table, where his cigar box lay open. "Help yourselves, gentlemen."
As the others got busy cutting the cigars, lighting them, and remarking on the quality, William leaned closer to Kian and asked quietly, "Did you have a chance to talk with the Clan Mother?"
Kian nodded. "They were supposed to return next Tuesday, but she said she would try to be back by Thursday. If she's needed earlier, though, she said to let her know, and she will come as soon as she can."
If there was an emergency, Kaia would need the goddess's help immediately and not eighteen hours later, which was how long it could take Annani to travel from the castle in Scotland to the village, and Thursday was nearly a week from now. If Kaia was transitioning, she would probably no longer need Annani's help by then.
Hopefully, Kian was right about Toven's ability to provide a blessing just as potent as Annani's.
William forced a smile. "Thank you."
"You're welcome."
Not to be rude, he stayed with the smokers a few more minutes and then excused himself and went back to Kaia, but she still wasn't ready to leave.
She was busy convincing her mother to stay and see her through the transition, but he could see on her face that she was suffering.
The girl was stubborn and too proud to admit that she wasn't feeling well.
It took another
Download


Copyright Disclaimer:
This site does not store any files on its server. We only index and link to content provided by other sites. Please contact the content providers to delete copyright contents if any and email us, we'll remove relevant links or contents immediately.