Animating Black and Brown Liberation by Michael Datcher;
Author:Michael Datcher; , Date: November 25, 2021 ,Views: 29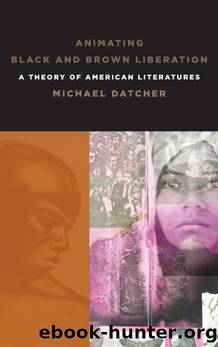 Author:Michael Datcher;
Language: eng
Format: epub
Publisher: State University of New York Press
Published: 2019-11-15T00:00:00+00:00



CEREZITA: But that's your job, isn't it, Father, to make people see? The 'theology of liberation.' The spiritual practice of freedom. On earth. Do you practice what you preach, Father?41
In the above passage, Cerezita challenges the contention that Father Juan can be both a liberation theology practitioner and a Sovereign representative. Responding to Cerezita's interrogatives, Father Juan confesses that the weight of the vestments is "tranquilizing" his body. A tranquilized body is unable to forcefully move into liberatory action when "the liberatory moment" calls for liberatory action. Throughout Heroes and Saints, Father Juan is defined by his inability to act on his purported liberation theology philosophy—especially in the liberatory moments when the McLaughlin community members need him most.
Father Juan explains to Cerezita that operating as an ordained Sovereign representative "there's no choice in the matter." Father Juan has "given up volition." The priest's will is not his own. Father Juan's will is owned by the Sovereign. Although his liberation theology philosophy dictates a moral, political, and philosophical imperative to help Cerezita, and the other McLaughlin youth who she has helped to organize against the sovereign farm owners, Father Juan's will falls short when it comes to carrying out emancipatory actions. Similar to Dolores's Sovereign-dictated refusal to bless Mario, Father Juan is the narrative's second adult "caregiver" to sacrifice children on the altar of "abdicated volition."
Whether religious or neoliberal, the sovereign impact on the McLaughlin youth is marked by violence. The neoliberal farm owners' death-dealing policies etch indelible violence in the shape of badly deformed bodies and bodies that never form into adults. In Heroes and Saints, religious Sovereign violence is less legible but not necessarily less violent. In the play, Sovereign violence has a way of working inside-out. Sovereign violence does damage by encouraging the host subject to do damage to him/herself—and to those in his or her care. Dolores allows the Sovereign working within her to stop the flow of maternal love toward her gay son because of who he chooses to love. The love Dolores denies Mario hurts him, but the harm to Dolores is palpable as well. Earlier in the play, before Dolores refuses to confer her blessings on Mario, she says about her children, "[Y]ou walk around full of holes from all the places they take from you. All the times you worry for them … all the times you see them suffer on their faces and your hands are tied down from helping them."42 It is her Sovereign who ties down Dolores's hand from making the sign of the cross to bless her gay son. Consequently, it is her Sovereign who helps generate the invisible, non-legible "holes" that Dolores carries inside. However, these indwelling holes (hieroglyphics of the flesh) are not empty. These holes are occupied by a Sovereign who works inside-out. The Sovereign works from inside Dolores's consciousness by functioning as her subjectivity. The Sovereign convinces Dolores to convince herself that she must deny love to her son.
Father Juan claims that life as a
Download


Copyright Disclaimer:
This site does not store any files on its server. We only index and link to content provided by other sites. Please contact the content providers to delete copyright contents if any and email us, we'll remove relevant links or contents immediately.