A Collection of Creatures by B.R. Grove
Author:B.R. Grove [Grove, B.R.] , Date: May 27, 2023 ,Views: 13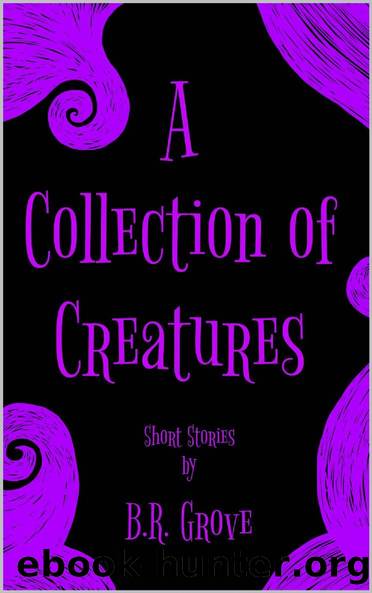 Author:B.R. Grove [Grove, B.R.]
Language: eng
Format: epub
Published: 2019-04-01T22:00:00+00:00



Heist
It was seven minutes after midnight. No lights were on in the house, which was a good sign. That meant its occupant had gone to bed. Ethan watched the bedroom window intently from the edge of the dense forest. "Just ten more minutes," he whispered to his accomplice. "We need to make sure she's asleep."
Caleb sneezed into his jacket elbow. Ethan cringed at the noise and glanced around to make sure that nobody heard it. No one did, and he relaxed. He couldn't afford to screw this up.
Ever since he'd discovered that Talia Herter- adopted daughter of the famous actor Mickey Tate- had moved into his city, he knew that she would be his next target. The house she'd picked was rickety and smack-dab in the middle of the woods; the perfect place to break into. He'd scoped out the place weeks before and couldn't find any security cameras to speak of, let alone a burglar alarm. Either she was really stupid, or she didn't expect to get robbed. Ethan was more than willing to take advantage of her misstep if it meant getting rich.
"Can we go now?" Caleb asked.
Ethan hushed him and looked at his watch. Six minutes had passed, and still no movement in the house. "Fine, but be careful goddammit!"
Caleb nodded, and they trudged across the clearing towards the house.
When they reached the front door, Caleb knelt down and retrieved his lock-pick. A couple of minutes later, the lock clicked, and he slowly pushed the door open. Gingerly, they stepped inside.
As expected, the house was dead silent. It was old, with gaudy floral wallpaper and a mahogany wooden floor. Ethan couldn't help but wonder why Talia would pick this ramshackle cabin to live in, with the money she had. That money was why they came here in the first place, so he sprang into action.
"Alright, check this floor first," He pulled out a garbage bag he'd folded in his jacket pocket and handed it to Caleb. "Go to the living room. See what's there." He pointed to the left archway. Caleb nodded and went. Ethan continued into the dining room.
Just like any rich person, Talia Herter had a cabinet of fine china dinnerware. He opened the glass doors and started piling the plates one by one into his bag. He finished and closed the doors, cringing when they fell into place with a loud click. He paused and listened for any noise upstairs.
Nothing.
He went back to work, moving onto the crystal candlesticks on the dining room table. When he was done, he proceeded to the kitchen. It took him a second to locate the silverware drawer, but when he found it, he grinned at the neatly-organized gleaming cutlery. He removed them, holder and all, and placed them atop the plates. He checked the oak cupboards in the kitchen and was disappointed to find nothing of value. He hoisted his bag into the crook of his arm, careful not to let anything rattle, and turned to return to the opening hall.
Download


Copyright Disclaimer:
This site does not store any files on its server. We only index and link to content provided by other sites. Please contact the content providers to delete copyright contents if any and email us, we'll remove relevant links or contents immediately.