What the Body Remembers by Baldwin Shauna Singh
Author:Baldwin, Shauna Singh [Baldwin, Shauna Singh] , Date: August 1, 2020 ,Views: 150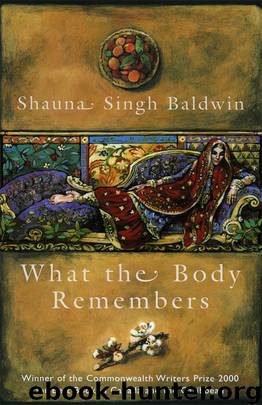 Author:Baldwin, Shauna Singh [Baldwin, Shauna Singh]
Language: eng
Format: epub
Tags: AWARDWINNING, LITERATURE, UPLOAD20FILE, INDIA
ISBN: 9780385496056
Google: q4AiDQAAQBAJ
Amazon: B01LYMHMK5
Goodreads: 35350
Publisher: Anchor
Published: 1999-01-01T08:00:00+00:00



Four
1940–1941
CHAPTER 24
Rawalpindi, September 1940
VAYU rustles the banyan leaves above Satya. Sitting on the terrace garden, she crushes a piece of sugar cane between strong white teeth, swallows the cool sweetness and spits the fibrous husk in the rain-gutter.
The wavering.
There it is again, like a soot-plumed flame dancing within a kerosene lantern. First an incline towards decision, resolve thickening the way sugar cane juice boils down to molasses, resisting alternative, kinder ways of saying, Buss! Enough! or—as she wants Mr. Farquharson and all his quom to say—"Goodbye forever and thank you," and then the reverse, a pulling back to the comfort of rhythms established for three years now.
Why can she and Roop not simply go on the way they are, comfortable in their separate apartments, in their different roles in his life, she the wife of his early years of struggle and of building, and Roop the wife for modern times, the one for English dinner parties with Sardarji's "superiors" and for ornament?
If only Roop were a bazaar woman, predictably loose and coarse and grasping. Satya could say she'd ensnared Sardarji, used uttar and wine and bound his heart in the tendrils of her black hair. But no, she'd met his picture and his astrological chart, like any bride of good family. Her only crime is to have brought no dowry and to have no means of support but the fruitfulness of her young womb.
Sardarji is not in need, like many in Punjab. The war the British had to join and fight because they call themselves Europeans is already a year old. High-up people in India are making fortunes supplying it—Rai Alam Khan's first wife wrote to say her son is supplying khaki uniforms sewn by tailor-masters in Karachi, tent cloth, silk for their parachutes, spittoons of hammered metal for field hospitals. With Mr. Farquharson suddenly called for miltry duty, Sardarji has been promoted to Superintending Engineer. No, they are not in need, they have plenty, they can be charitable and give shelter to a woman of lesser birth than she, a shallow village woman who can produce children but knows little else about life.
Doesn't it take a dirty anna to make sweet yoghurt from a bowl of milk?
I come from a family of kind people, people known for their generosity. But…
Yesterday a Kashmiri came to Sardarji's haveli gate with fine jamavar and shahtoosh shawls, and Roop and Satya sat together in the banyan-filtered sunlight in the courtyard as he took the bundle from his head and untied its knots, north from south, east from west, and showed the treasures within.
"The shawls choose their owners," said the Kashmiri. "I only ask a fair price for bringing them to their new homes. They guide me with whispers through the streets, giving me directions."
And that day Satya believed him.
"How I wish we women could do as your shawls do," she said.
Pavan played and Timcu gurgled nearby, under Mani Mai's watchful eye. And Roop, like a bird trying its wings, wrapped herself in the red and black swirls of a jamavar shawl and laughed for joy.
Download


Copyright Disclaimer:
This site does not store any files on its server. We only index and link to content provided by other sites. Please contact the content providers to delete copyright contents if any and email us, we'll remove relevant links or contents immediately.