The World of Normal Boys by K.M. Soehnlein
Author:K.M. Soehnlein [Soehnlein, K.M.] , Date: August 25, 2017 ,Views: 6137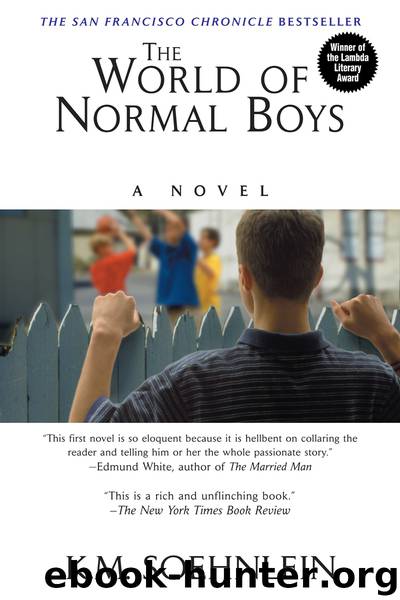 Author:K.M. Soehnlein [Soehnlein, K.M.]
Language: eng
Format: epub
Publisher: Kensington
Published: 2015-05-08T04:00:00+00:00



Robin takes his seat at the kitchen table in front of a plate of steaming scrambled eggs. Ruby stands at the sink, washing out the last of the pots and pans Clark has used to prepare breakfast. The kitchen is bright with the light of late morning. His mother has put a breezy and plaintive Miles Davis album on the turntable, but the music plays in contrast to her obvious fatigue. She drops herself sluggishly onto a seat at the table, which does not surprise Robin. When he had gotten home from the party, resigned to whatever punishment awaited, his parents were locked in their bedroom arguing strenuously. He wiped grime off himself and brushed his teeth and climbed into Ruby's bed, falling asleep before talking to anyone.
Now his head pounds dully, six chewable orange-flavored aspirin not yet having any effect on the alcohol still sluicing through his bloodstream. This is a hangover, he realizes, the morning after everyone talks about. He doesn't think he can make himself eat, not only because he feels physically ill but because he's anxiously awaiting an interrogation about why he got home so late, and he's still not sure what made-up story he's going to offer to them.
"Should we say grace?" Ruby asks.
Robin looks over at his mother, who is biting her upper lip, probably trying to keep herself from saying no.
"Sure. Why not?" Clark says cheerfully.
Ruby clasps her hands in front of her and bows her head. "Bless us, oh, Lord, and these Thy gifts we are about to receive through Thy bounty through Christ our Lord. Amen."
"Rub-a-dub-dub, God bless the grub," Robin adds.
"Thank you, Ruby," Clark says. "And, Robin, watch it. That was a little disrespectful."
"Why do you think he said it?" Ruby shoots back.
Robin mutters a halfhearted apology and steps up to the stove to pour himself a cup of coffee.
Dorothy's eyes are on him. "Just decided you needed a little boost, huh?"
Robin sucks in his breath apprehensively. "I've always liked coffee," he says, loading up on milk and sugar.
"It's especially good when you haven't gotten enough sleep," Dorothy retorts, false levity in her voice. "But let's not get into that yet. Let's enjoy this food, shall we?"
He returns to the table, not meeting her eyes, knowing it's only a matter of time before he'll have to answer for last night.
Clark eats hurriedly, forking food into his mouth while still chewing the previous bite. "I wanted to let you two know what's going on," he says with a look at Robin and Ruby.
"About what?" Robin asks.
"About your brother." Clark slurps orange juice. There's an almost antic quality to his speech. "There's some sense from the doctors that Jackson will need to be in the hospital for another month before he'll be well enough to come home."
"That seems far away," Ruby says.
"We should be thankful," Clark says. "Though when he gets home, he's not going to be completely recuperated. He's going to need some time to regain full use of his motor skills.
Download


Copyright Disclaimer:
This site does not store any files on its server. We only index and link to content provided by other sites. Please contact the content providers to delete copyright contents if any and email us, we'll remove relevant links or contents immediately.