The Unlikely Pilgrimage of Harold Fry by Rachel Joyce
Author:Rachel Joyce [Joyce, Rachel] , Date: March 24, 2014 ,Views: 1731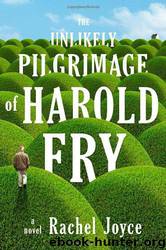 Author:Rachel Joyce [Joyce, Rachel]
Language: eng
Format: epub, mobi
Tags: Fiction, General
ISBN: 9781446488645
Publisher: Transworld
Published: 2012-01-01T05:00:00+00:00



16
Harold and the Physician and the Very Famous Actor
HAROLD INTENDED TO keep his stay in Bath brief. He had learned from Exeter that a city diluted his purpose. He needed to get his shoes resoled but the cobbler was closed until midday, due to family affairs. While Harold waited, he would use the time to choose another souvenir for Queenie and Maureen. The sun fell in stark slabs of light in the abbey churchyard. It was so dazzling he had to shield his eyes with his hand.
'Could I ask you all to form a proper line?'
Glancing behind, Harold found himself included in a party of foreign tourists, wearing canvas sunhats and visiting the Roman Baths. Their guide was an English girl, barely out of her teens, with a fragile face and an upper-class trill to her voice. Harold was about to explain he was not one of the party, when she confessed this was her first tour as a professional. 'None of them has a clue what I'm talking about,' she whispered. She sounded so startlingly like Maureen as a young woman that he couldn't move. Her mouth wobbled as if she were about to cry, and Harold was undone. He tried lingering at the back, and also attaching himself to a party who were almost finished; but each time he was on the verge of escape, he remembered his young wife in her blue coat and couldn't let the guide down. Two hours later, her tour ended in the gift shop where he bought postcards and mosaic key rings for both Maureen and Queenie. He had especially enjoyed her introduction to the Sacred Spring, he told her; they really were extremely clever, the Romans.
The young guide gave a slight wriggle of her nose, as if she had smelt something unpleasant, and asked if he had considered visiting the nearby Thermae Bath Spa, where he might enjoy picturesque views of the city, and a state-of-the-art cleansing experience?
Appalled, Harold rushed straight there. He had been careful to keep washing both his clothes and himself, but his shirt was frayed at the collar, and his fingernails were dirt ridges. It was only once he had paid for his entrance ticket and the hire of towels that it occurred to him he had no trunks. For these he had to leave and find a nearby sports shop, making the day his most expensive so far. The assistant fetched a choice of bathing costumes and goggles, although when Harold explained he was more of a walker than a swimmer she was keen to show him waterproof covers for his compass, and a selection of reduced-price, all-weather trousers.
By the time he left the shop with his swimming shorts in a small bag, a large crowd was packed on the pavement. Harold found himself squashed against a copper statue of a Victorian man in a top hat.
'We're waiting for that famous actor,' explained a woman beside him. Her face was red and filmy with the heat. 'He's signing his new book.
Download


Copyright Disclaimer:
This site does not store any files on its server. We only index and link to content provided by other sites. Please contact the content providers to delete copyright contents if any and email us, we'll remove relevant links or contents immediately.