The Thibaults by Roger Martin Du Gard
Author:Roger Martin Du Gard [Gard, Roger Martin Du] , Date: May 8, 2016 ,Views: 1204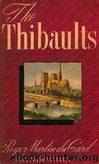 Author:Roger Martin Du Gard [Gard, Roger Martin Du]
Language: eng
Format: epub, mobi
Published: 2016-05-03T16:00:00+00:00



XI
A GIGANTIC poster, flaunted on the boulevard, brought passers-by to a full stop before the picture-house.
IN DARKEST AFRICA
TRAVELS AMONGST THE SAVAGE TRIBES OF THE INTERIOR
"It doesn't begin till half-past eight," Rachel sighed.
"I told you so."
Not without regret had Antoine forgone the privacy of the pink bedroom, and now, to console himself with an illusive isolation, he booked one of the shut-in boxes at the back of the amphitheatre.
While he was doing so, Rachel came back to him.
"I say, I've just spotted a real beauty!" she cried, and led him to the lobby, where stills from the film were being exhibited. "Look there!"
Antoine read the caption first: "A Mundang girl winnowing millet on the banks of the Mayo Kebbi." Then his eyes rose to a bronzed body, stark naked but for a ribbon of plaited straw knotted round the loins. Intent upon her task, the girl, resting her weight on her right leg, her bust strained upwards, her right arm rising in a sweeping curve above her head, had the poised beauty of a statuette. In her right hand she held a tilted calabash filled with grain that she was pouring in a thin trickle, from as high as she could reach, into a wooden bowl below, clasped in her left hand at the level of her knee. Nothing was studied in her attitude; the poise of her head, flung back a little, the balanced harmony of her curving arms, the upward surge of the torso, tip-tilting the firm young breasts, the flexure of her waist and tension of her hip, the forward swing of the unweighted limb that lightly spurned the soil at its extremity—all breathed harmonious beauty, adjusted to the rhythms of toil, an artless counterpoint of movements.
"Look, what do you think of that?" She pointed to a file of ten young Negroes bearing on their shoulders a tapering pirogue. "Isn't that little fellow lovely? He's a Wolof, you know. That's a grigri he has round his neck, and he's wearing a blue boubou and a tarboosh." Her voice was vibrant with unwonted excitement that evening and, when she smiled, her lips all but refused to part, as though the muscles of her face had stiffened unawares. Her eyes moved restlessly between the narrowed lids, fever-bright and lit with silvery gleams; never had Antoine seen them thus before.
"Let's go in," she suggested.
"But there's a good quarter of an hour before it starts."
"That doesn't matter!" she insisted, like an impatient child. "Let's go in now."
The house was empty. In the orchestra pit some musicians were tuning up. As Antoine began to raise the lattice-window in front of the box Rachel pressed herself to his side.
"Do loosen your tie!" she pleaded laughingly. "You always look as if you'd just been trying to throttle yourself and dashed off with the rope round your neck." Letting the window fall, Antoine made a vague gesture of petulance. "Yes," she murmured in the same breath, "I'm ever so glad you're with me to see this show.
Download


Copyright Disclaimer:
This site does not store any files on its server. We only index and link to content provided by other sites. Please contact the content providers to delete copyright contents if any and email us, we'll remove relevant links or contents immediately.