The Source by James A. Michener
Author:James A. Michener [Michener, James A.] , Date: March 25, 2014 ,Views: 874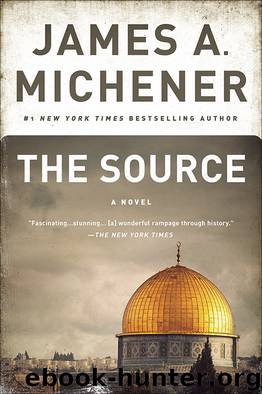 Author:James A. Michener [Michener, James A.]
Language: eng
Format: epub, mobi
ISBN: 9781435297128
Publisher: Random House Publishing Group
Published: 1965-01-01T05:00:00+00:00



• • • THE TELL
When John Cullinane lived in Chicago he attended Catholic mass occasionally and funerals rather often, but whenever he worked overseas he tried to attend local Catholic churches regularly in order to see their rich variation in architecture and ritual. For example, at the end of two months' work at Makor he had prayed with the Carmelite monks on Mount Carmel, with the Salesians at Nazareth, with the Benedictines at the Galilean church of Loaves and Fishes, with the Syrian Maronites in Haifa, and with the Greek Catholics in Akko.
He found the strange services exciting, not only from the spiritual point of view but also from the historical; there were some liturgies he could scarcely understand, while others seemed rather close to the Irish church he had known as a boy, but common to all was evidence of Catholicism's ability to accommodate itself to many cultures, relying upon a central core of authority to insure the continuity. The more Cullinane saw of his ancient church in the Holy Land the more impressed he became with its vitality, for although the state of Israel was predominantly Jewish, Cullinane discovered everywhere this vigorous Catholic continuum based upon Arab Christians who, sometimes against formidable tyranny from either Rome or Constantinople, had retained their special rites since the early centuries.
By no means had Cullinane visited all the types of Catholic church available in the Galilee; he hoped especially to see those mysterious branches which had broken off from Rome: the Greek Orthodox in Kefar Nahum, the Russian Orthodox in Tiberias. And he was interested in the Monophysite groups that had rejected both Rome and Constantinople: the Abyssinians, the Armenian Gregorians, the Egyptian Copts. But the nature of his work halted Sunday excursions, for at Friday noon each week all digging at Makor stopped, and none of course was permitted on Saturday, which was the Jewish Shabbat. Then on Sunday digging resumed, and since this was the first workday of the week, he felt that he must be present. He was thus kept from exploring further into the local life of his own church, and although this irritated him somewhat as an archaeologist, he felt no loss as a worshiper, for had he been at home with a free American-style Sunday he would rarely have gone to the local cathedral.
What he did do was what he had done wherever he had been engaged in excavations: each Friday afternoon he climbed into his jeep, usually alone, and drove to some nearby village to participate in the Jewish sunset services which welcomed Shabbat. There he would mingle with the crowd, put an embroidered yarmulke on the back of his head, and try to penetrate the mystery of the ancient religion into which his workmen were digging. He did not do this because he was inclined toward the Jewish interpretation of life—although he found it congenial—but rather because as a man who would spend ten years excavating at Makor it behooved him to know as much as he could about the civilization that he was exhuming.
Download


Copyright Disclaimer:
This site does not store any files on its server. We only index and link to content provided by other sites. Please contact the content providers to delete copyright contents if any and email us, we'll remove relevant links or contents immediately.