The Sacrament by Olaf Olafsson
Author:Olaf Olafsson [Olaf Olafsson] , Date: December 4, 2019 ,Views: 333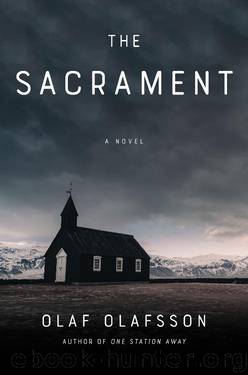 Author:Olaf Olafsson [Olaf Olafsson]
Language: eng
Format: epub
Publisher: HarperCollins
Published: 2019-08-06T00:00:00+00:00



AFTER A LITTLE HESITATION, I TAKE THE PLUNGE and call Sister Marie Joseph. The sun is sinking in the sky, and the church casts its shadow all the way down the hill. I am still standing in the same spot in front of the Sacré-Coeur and have now decided that my visit has come to an end. It is time for me to get going to the airport, and besides I am convinced that there is no point in me stopping off at the guesthouse. I feel relieved after making that decision.
Before I left, Sister Marie Joseph offered to transfer my music from the iPod to my phone. But having both gadgets in one appeared too complicated, so I declined her offer. I don't know why I think of this now, as I tap in her number, perhaps it's just a sign of insecurity. She had already entered all my contacts, but when she showed me how to access them, I threw up my hands and asked her if she couldn't write instructions down for me on a piece of paper.
It's ringing, but I'm still not sure that I have dialed correctly. When she answers, I am so surprised that it is she who greets me.
Sister Johanna!
Good evening, I say, lowering my voice more than usual, in the hope that she will do the same.
It's Sister Johanna, I hear her say to the nuns in the room, then adding: I'm going outside.
Where are you now? she asks a moment later.
I tell her, then respond to her questions about the view, the acoustics in the church, and the organ, which she says she remembers so well.
When she asks if I have met anyone, I decide to tell her about the young couple who helped me with my suitcase, but not about those who have followed my every step and been in my thoughts all day. Those I keep to myself.
I am a little surprised that she doesn't ask me more about the young couple, but perhaps this isn't so strange. Instead she talks about my suitcase, fusses over me dragging it all around the city.
Aren't you exhausted?
I am certainly beginning to flag, but I try to play it down, insisting that the suitcase isn't heavy.
She says she noticed that when she took me to the station.
Do you think you took enough warm clothes with you?
It's summer, I remind her, and besides I'll have the use of a washing machine.
Then she says:
He has stopped howling. George Harrison. And he's got his appetite back. Do you want to hear him?
Heavens, no, I say. I shall only miss him even more.
He followed me to the rose garden today. Actually, he spent most of the time lying down by the wall next to the Pierre de Ronsard.
I take the opportunity to touch on a few things I feel I haven't emphasized enough.
Now that you mention it, I say, I may have forgotten to tell you that the roses on the north side of the garden don't need as much watering as the others, in particular the Amélie Gravereaux .
Download


Copyright Disclaimer:
This site does not store any files on its server. We only index and link to content provided by other sites. Please contact the content providers to delete copyright contents if any and email us, we'll remove relevant links or contents immediately.