The Mirror and the Light by Hilary Mantel
Author:Hilary Mantel [Mantel, Hilary] , Date: March 9, 2020 ,Views: 1032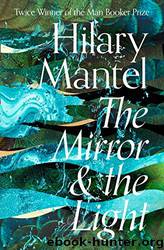 Author:Hilary Mantel [Mantel, Hilary]
Language: eng
Format: epub
Published: 0101-01-01T00:00:00+00:00



II
The Image of the King
Spring–Summer 1537
Hans does not like the pavonazzo. You cannot have a king who is purple from one angle, blue from another, green from a third, who shines and shimmers wetly as if evading the artist. Stick to crimson, sir, Hans says: it is my earnest loyal advice.
The king has not decided yet what kind of portrait he wants. He might ask for anything, from a picture that covers a wall to a miniature you can hold in your palm. But he agrees to be crimson. Each ruby is a tiny kindling fire.
In the kitchen at the Rolls House, the Lord Privy Seal holds a white basin, within it a pool of green oil, in which he is dipping pieces of bread, and giving them to passing boys to taste. Mathew, bustling in for his portion, sneezes loud enough to crack an egg. 'That will be the plague,' Thurston says.
'Too early for plague.'
'Then I blame our diet. Englishmen were never made to eat fish. Salt water gets in your brain. A German can live on vegetables, he eats what he calls crowte. A Frenchman eats roots and herbs – if he's famished you just turn him out to grass. But an Englishman is bred on bacon and beef.'
'An Englishman may ask,' Mathew says, 'why we still have Lent. Now we've kicked the Pope out, you would think we could enjoy a dish of tripe every day.'
'The season will be easier this year,' he says. 'We can have eggs. Cheese. The king allows it.'
'Naught but yellow and white,' Thurston says.
The French and the Emperor are fighting by land and sea. Their war makes fish scarce, and that's the only reason the king makes a concession. Cranmer complains that at the royal court even the minor feasts of the church are held with all the old superstitious ceremonies. How then can he convince the simple people to labour on saints' days, instead of drinking ale under a hedge: to till and sow, instead of playing skittles?
'There are willing butchers enough,' Thurston says. 'A man can purchase flesh even on Good Friday, if he has a shilling and a good wit.'
He holds up a palm. 'If I knew the names of willing butchers, I'd have to close them down.'
'Our master is second to God,' Mathew says, chewing. 'First comes the king, God's deputy, and then comes our master, deputy to the king.' He licks his fingers. 'Sir, they are saying the French have given you a big present. I mean, not a lion or a fighting horse. A present of money.'
He relishes the last fragment of bread, sacramentally: pepper, grass: Chapuys sent the oil. 'The king's not averse to us getting our living,' he tells Mathew. 'It's how it's always been. We frighten the French, and they give us money. The king himself has a pension from them, from old King Edward's time. Not that they're good payers.'
Mathew's brow clears. 'As long as it's true. If it were a slander, we'd have to wallop them.
Download


Copyright Disclaimer:
This site does not store any files on its server. We only index and link to content provided by other sites. Please contact the content providers to delete copyright contents if any and email us, we'll remove relevant links or contents immediately.