The Measure of a Man by Marco Malvaldi
Author:Marco Malvaldi [Malvaldi, Marco] , Date: November 20, 2019 ,Views: 257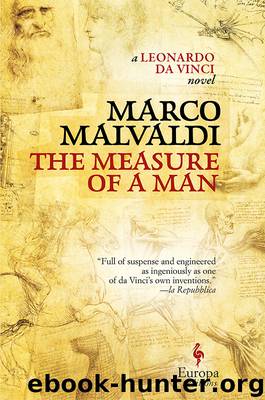 Author:Marco Malvaldi [Malvaldi, Marco]
Language: eng
Format: epub
ISBN: 9781609455521
Publisher: Lightning Source Inc. (Tier 2)
Published: 2019-09-13T04:00:00+00:00



* * *
"You see, Your Lordship, the letter is signed by Bencio Serristori, Accerrito Portinari's associate and my good friend in Florence. It's clearly dated the twenty-fourth of June this year."
"Yes, I can see that. So?"
"Well, Your Lordship, the twenty-fourth of June is the Feast of Saint John the Baptist in Florence. Nobody works on the day of the patron saint. And, from what I knew of Bencio Serristori, he would never have left home—or, above all, a lavishly set table—on the Feast of Saint John to go to the bank."
"Knew?"
"That's right, Your Lordship, Bencio Serristori died in Florence on the first day of July this year. My mother Caterina, who has recently come to stay with me, told me this along with other news she brought from Florence."
Ludovico joined his hands in front of his face and began rubbing his chin up and down with the knuckles of his index fingers. Not a very duke-like pose but more than essential at that moment. Ludovico was thinking.
In order to be paid, a letter of credit had to match the specimen of handwriting and the signature every bank manager kept with him. If Chiti had forged that letter, it meant he had access to a specimen of a real letter. But where could he have obtained it?
And, above all, where was this specimen?
"So you knew this Signor Serristori well?"
"As I told you, we were each other's guest in Florence."
"And do you have any idea who did business with him here in Milan?"
"There are a few I remember, Your Lordship, but I cannot guarantee there aren't more of them."
Il Moro's knuckles continued to rub his chin. A fake letter of credit. The real one is missing. And the man who most likely fabricated it is murdered in that absurd manner and dumped in the middle of my castle. In the center of his city. I have to get to the bottom of this.
"Messer Leonardo, draw up a list of the Milanese names you know to have had dealings with your friend Serristori."
"As Your Lordship wishes. May I therefore hope for Your Lordship's forgiveness and trust?"
"Of my forgiveness, my Christian forgiveness, you can always be certain, Messer Leonardo. As for my trust, we'll see if you can earn it. Remember that we have made some very specific agreements and I am still waiting for proof of your craftsmanship."
Il Moro's eyes traveled in an indescribable but perceptible fashion to Leonardo's face.
Eyes that said: And I don't just mean the bronze horse.
To which the eyes facing him replied: I know that perfectly well.
Download


Copyright Disclaimer:
This site does not store any files on its server. We only index and link to content provided by other sites. Please contact the content providers to delete copyright contents if any and email us, we'll remove relevant links or contents immediately.