The Lost Journals of Nikola Tesla by Tim Swartz
Author:Tim Swartz [Swartz, Tim] , Date: August 1, 2020 ,Views: 283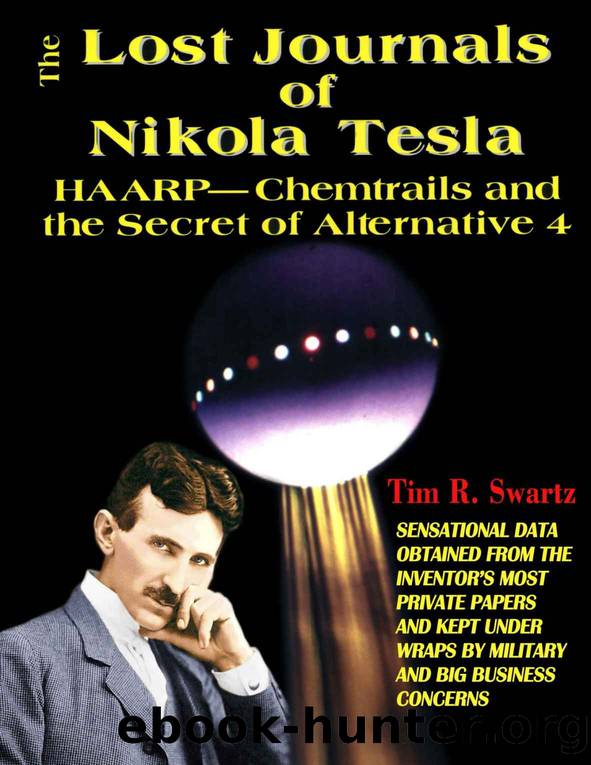 Author:Tim Swartz [Swartz, Tim]
Language: eng
Format: azw3, epub
Publisher: Inner Light - Global Communications
Published: 2018-05-07T16:00:00+00:00



The Mystery of the Tesla Electric Car
With the high price of gasoline and the ever-growing concern for our environment, the concept of the all-electric car is once again being considered by the major auto manufacturers. Unfortunately, the problem with battery weight and storage still makes electric cars economically unfeasible.
In an article by Arthur Abrom for the Dallas Morning News, it was pointed out that electric powered automobiles were one of the earliest considerations and this mode of propulsion enjoyed a brief but short reign. In the early days of automobile development, electric propulsion was considered and used.
An electric powered automobile possessed many advantages that the noisy, cantankerous, smoke-belching gasoline cars could not offer. First is the absolute silence one experiences when riding in an electrically powered vehicle. There is not even a hint of noise. One simply turns a key and steps on the accelerator—the vehicle moves instantly. No cranking from the start, no crank to turn (this was before electric starters), no pumping of the accelerator, no spark control to advance and no throttle linkage to pre-set before starting. One simply turned the ignition switch to on and away you went.
If one wants to increase speed, you simply depress the accelerator. Further, there is never any hesitation. Releasing the accelerator causes the vehicle to slow down immediately; you are always in complete control. It is not difficult to understand why these vehicles were so very popular around the turn of the century and until around 1915.
The big disadvantage to these cars then, and even today, was their range and need for recharging every night. All of these electric vehicles used a series of batteries and a D.C. motor. The batteries require constant recharging and the range of travel was restricted to about 100 miles. Many of the large department stores in metropolitan areas began purchasing delivery trucks that were electrically powered. They were silent and emitted no pollutants. They were practically the perfect car.
Maintenance was a minimum on electrically powered vehicles. There were few mechanics and garages in operation in the early 1900's. Therefore, city life and travel appeared to be willing to embrace the electric automobile. Two things happened to dampen the popularity of the electric automobile. One was the subconscious craving for speed that gripped all auto enthusiasts of this era. Electric vehicles could not reach speeds of 45 or 50 M.P.H. for this would have destroyed the batteries in moments. Bursts of speeds of 25 to 35 M.P.H. could be maintained for a moment or so.
Normal driving speed, depending upon traffic conditions, was 15 to 20 M.P.H. by 1900 to 1910 standards; this was an acceptable speed limit to obtain from your electric vehicle. As well, the electric automobile could not be adapted to accommodate and utilize Tesla's polyphase A.C. motor. So, somewhere around 1915 or so, the electric automobile became just a memory.
In 1931, under the financing of Pierce-Arrow and George Westinghouse, a 1931 Pierce-Arrow was selected for tests at the factory grounds in Buffalo, N.
Download


Copyright Disclaimer:
This site does not store any files on its server. We only index and link to content provided by other sites. Please contact the content providers to delete copyright contents if any and email us, we'll remove relevant links or contents immediately.