The Light of the World by Elizabeth Alexander
Author:Elizabeth Alexander , Date: February 24, 2017 ,Views: 788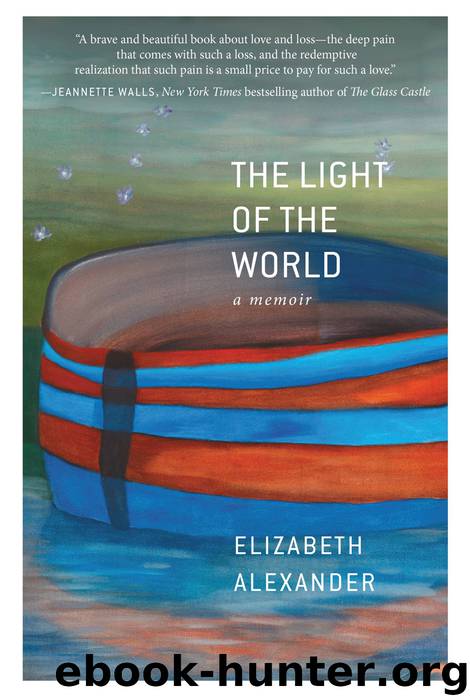 Author:Elizabeth Alexander
Language: eng
Format: epub
Tags: Biography & Autobiography / Personal Memoirs, Biography & Autobiography / Cultural Heritage
Publisher: Grand Central Publishing
Published: 2015-04-14T16:00:00+00:00



Seventeen
May ends with my fiftieth birthday. I'd wanted to have a joint birthday party with Ficre, a hundredth-birthday party. In our New Haven neighborhood filled with old houses and intellectuals, people sometimes have hundredth-birthday parties for their houses, which feels very New England to me in a way that we are not. But the idea of our being one hundred together was magic.
I refuse to have my birthday. I'll sit this one out, I repeat. But Joanne insists, you have to have a birthday, and she and Amy make a small party for me where we feast in their home with our children, my parents, Mark, Tracy, and Alondra, dance hard to the hip-hop songs the kids DJ, and then listen to a live chanteuse sing songs that make all the grown-ups cry. Joanne is right: you cannot stop your birthday from coming, so you might as well celebrate being alive.
I did not grow up in the black church, nor with the Negro spirituals. Now I understand them as never before. Their poetry feels pure and profound. I been in sorrow's kitchen and done licked out all the pots. Nobody knows the trouble I seen. Steal away to Jesus. I ain't got long to stay here. I think of Frederick Douglass's great words that I have taught countless times:
"I did not, when a slave, fully understand the deep meaning of those rude and apparently incoherent songs.… The remark in the olden time was not unfrequently made, that slaves were the most contented and happy laborers in the world, and their dancing and singing were referred to in proof of this alleged fact; but it was a great mistake to suppose them happy because they sometimes made those joyful noises. The songs of the slaves represented their sorrows, rather than their joys. Like tears, they were a relief to aching hearts."
Slaves sing most when they are most unhappy, he famously wrote. Song raises and bubbles up as the only apt expression of this sorrow, the only possible bulwark against eclipsing grief.
I have not dreamed enough of Ficre because my subconscious is vigilant. I hope no one is fooled by my competence. The waters of sorrow continue to wash and wash.
The few safe zones are clear, as if infrared. Outside of those zones, there is free-fall.
The children are obsessed with stories in the sensationalist press of the coming zombie apocalypse, and flesh-eating creatures arisen from the dead. I brush it off but their beliefs persist.
My fiftieth birthday and flowers keep coming, cards, celebration, and love. One of us is still here.
You were supposed to be a hundred together, my mother says.
Download


Copyright Disclaimer:
This site does not store any files on its server. We only index and link to content provided by other sites. Please contact the content providers to delete copyright contents if any and email us, we'll remove relevant links or contents immediately.