The Jam and Marmalade Bible by Jan Hedh
Author:Jan Hedh , Date: January 18, 2018 ,Views: 1097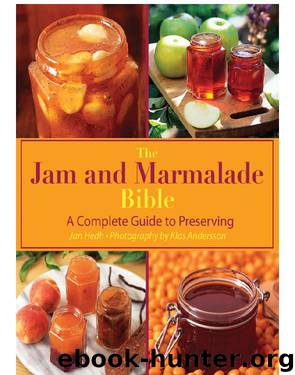 Author:Jan Hedh
Language: eng
Format: epub
Publisher: Skyhorse Publishing



6 bitter almonds
2 ½ lbs (1,200 g) fresh apricots, ripe
(2 lbs [1,000 g] net weight)
1 ¼ cups (300 g/3 dl) water
1 ¾ lbs (800 g) sugar
Juice of 1 lemon
1 vanilla bean, preferably Bourbon
1. Bring ½ cup (1 dl) water to a boil and scald the almonds. Place them in cold water right away and remove the shells. Use a mortar to grind them into an even mass.
2. Bring 8 ½ cups (2 liters) of water to a boil and scald the apricots for about 1 minute. Place them in cold water and peel with a small knife. Cut them down the middle and remove the kernels.
3. Pour the sugar and 1 ¼ cups (300 g) water into a pot and bring to a boil on full heat. Brush the inside of the pot with a brush dipped in cold water to prevent sugar crystals.
4. Boil to 234–240°F (112–114°C). Use a thermometer if possible, or perform a so-called marble test, see Boiling Sugar, p. 14.
5. Add the apricots, bitter almonds, and lemon juice. Cut the vanilla bean down the middle and add the seeds to the pot. Boil everything for about 10 minutes. Stir occasionally and remove foam with a spoon.
6. Boil until the apricots are turning transparent and the surface of the jam is starting to wrinkle. The temperature should then be at 222–224°F (106–107°C). The temperature may be higher if the apricots are very ripe and lower if they are not fully ripened. Perform a jam test on a cold plate, see p. 20.
7. Pour directly into sterilized jars and screw on the lids immediately. Turn the jars upside down a couple of times.
Makes about 3 lbs (1,500 g) jam.
Download


Copyright Disclaimer:
This site does not store any files on its server. We only index and link to content provided by other sites. Please contact the content providers to delete copyright contents if any and email us, we'll remove relevant links or contents immediately.