Sauces by James Peterson
Author:James Peterson , Date: November 20, 2017 ,Views: 2403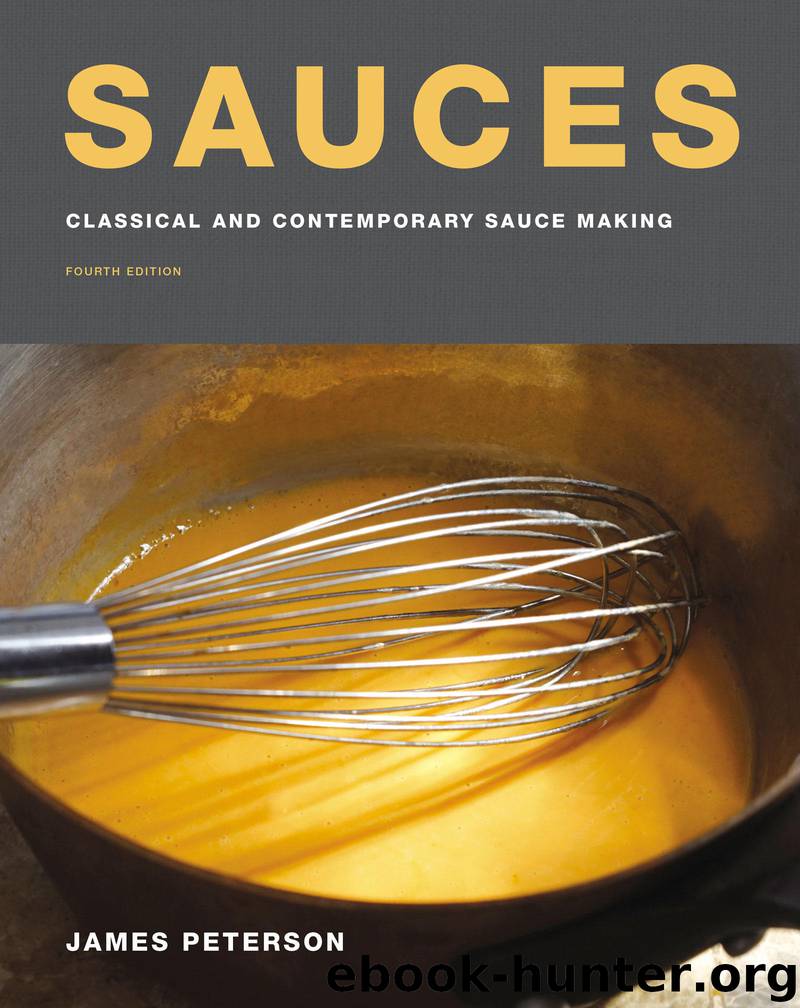 Author:James Peterson
Language: eng
Format: epub
Tags: Cooking
ISBN: 9780544819832
Publisher: Houghton Mifflin Harcourt
Published: 2017-11-07T05:00:00+00:00



Oysters with Champagne Sauce
These oysters can be served individually as hors d'oeuvres or in larger groupings as a fish course. A still Champagne is excellent for this sauce, but if this is unavailable, a dry white wine with high acidity, such as a French Chablis, Sancerre, or Muscadet, can be substituted and the dish renamed accordingly.
yield: 3 or 4 servings
oysters 12 12
heavy cream 1 cup 250 ml
spinach, blanched, excess water squeezed out 1 bunch 1 bunch
sorrel leaves, stems removed (not blanched) 1 handful 1 handful
salt and pepper to taste to taste
still champagne or dry white wine ½ cup 125 ml
finely chopped parsley or chives 1 tbsp 15 ml
1. Shuck the oysters into a bowl. Refrigerate until needed. Discard the top shells and scrub the bottom shells under running water with a brush. Turn them upside down on a sheet pan to drain and dry.
2. Reduce ⅓ cup (80 milliliters) of the cream in a saucepan until it is on the verge of breaking. Heat the spinach and the sorrel leaves in the cream until the sorrel turns a rather sullen green, about a minute. Season with pepper and a little salt (the sauce will be salty from later additions). Keep warm.
3. Heat the oyster shells in a 250°F (120°C) oven.
4. Poach the oysters in their own liquor in a small saucepan for about 1 minute. Do not let them boil, even for a second.
5. Remove the oysters from their liquor with a slotted spoon. Put them on a clean cloth napkin on a plate to remove specks of shell, and fold the napkin over them to keep them warm.
6. Strain the oyster liquor through a fine chinois into a saucepan and add the wine. Reduce by two-thirds.
7. Add the remaining ⅔ cup (170 milliliters) cream to the oyster liquor–wine reduction and reduce the sauce until it has the consistency of a beurre blanc. Add the chopped parsley and season with salt and pepper.
8. Spoon the spinach-sorrel mixture into the bottom of each oyster shell. Place an oyster on top and nap with the sauce.
Sea Scallops
It is a sad fact that truly fresh sea scallops are rarely, if ever, sold in the United States. The only way to be assured of their freshness is to buy them in their shells and shuck them to order. The amount of cooking they require is inversely proportionate to their freshness.
A popular method for preparing scallops is to sauté them in hot fat, usually butter. Unfortunately, when scallops are sautéed, their flavor is often altered—they take on a vaguely cloying sweet taste—and much of their delicate sea-like flavor is lost. When truly fresh scallops are available, they are best when lightly poached or braised and served immediately. Avoid methods that require holding the scallops for long periods while the poaching liquid is being reduced.
Because sea scallops are often thick, many chefs make the mistake of trying to submerge them completely in poaching liquid. This technique will work only if the scallops are nestled into a perfectly fitting sauté pan with straight sides.
Download


Copyright Disclaimer:
This site does not store any files on its server. We only index and link to content provided by other sites. Please contact the content providers to delete copyright contents if any and email us, we'll remove relevant links or contents immediately.