The Girl Who Came Back by Susan Lewis
Author:Susan Lewis [Lewis, Susan] , Date: May 15, 2016 ,Views: 4098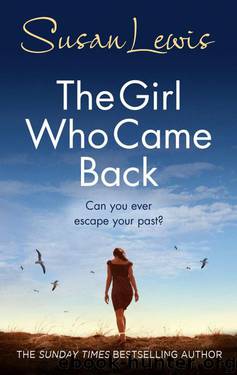 Author:Susan Lewis [Lewis, Susan]
Language: eng
Format: epub, mobi
ISBN: 9781448183876
Publisher: Random House
Published: 2016-02-24T16:00:00+00:00



It was just before eight the next morning, following the worst night of Kian's and Jules's lives, that they saw acting DC Leo Johnson arrive at the pub. PC Barry Britten was with him, but remained in the car while Johnson went into the bar where he found at least two dozen people, who'd clearly been there all night, waiting for news. After acknowledging them, but not engaging with their hostility, he followed Kian and Jules upstairs to the flat.
'I'm presuming,' he began a little hesitantly when they were in the kitchen, 'that you haven't heard anything overnight?'
Kian's eyes were glassy with fatigue, his jaw tight with stress. 'If we had we'd have let you know,' he responded tersely.
'No, we haven't,' Jules said more gently. If he was the best they could get on their side, he was certainly better than no one.
'So are you going to continue the search today,' Kian demanded, 'or is she still not important enough to be considered at risk?'
'We should be on our way to Heathrow by now,' Jules added brokenly. For Daisy not to have come back in time for the flight meant there was no evading the fact that something was seriously wrong.
Johnson's eyes were full of pity as he said, 'Have you checked to see if her passport is still here?'
Jules looked away as she nodded. 'Yes, it's still here,' she mumbled. This felt like the worst imaginable nightmare, one she desperately needed to wake up from if only she knew how.
'I don't want you to think nothing is being done,' Johnson continued kindly. 'Barry, the PC you met last night, and I are hoping to go back to the Quentins' house at some point today to carry out a more thorough search, and Amelia's car registration number has been circulated throughout the Dean Valley force.'
'And if she's taken Daisy out of the area?' Kian prompted, checking his mobile as it rang. His eyes went to Jules as, with a brief shake of his head, he clicked on. 'Dougie, what can I do for you?' he said abruptly.
Dougie? The mayor?
As Kian listened he put a hand to his head, and for one awful moment Jules thought he was going to cry. 'That's great, thanks mate,' he managed in the end. 'We really appreciate it. Yeah, Jules is here, I'll tell her.'
After ringing off he said, 'He got the call about Daisy an hour ago … He's working on getting us all the police cooperation we need …' As his voice fractured to nothing Jules put her hands over her face.
'This is good news,' Johnson said quietly. 'With the right sort of manpower and resources it shouldn't take us long to find her.'
He was almost at the door before Jules remembered to thank him. 'Did you call the mayor?' she asked.
He coloured slightly. 'Not personally, but I spoke to someone who has his direct number. He's a good bloke, I was hoping he'd make a difference.'
Jules's mind wasn't working properly; she couldn't
Download


Copyright Disclaimer:
This site does not store any files on its server. We only index and link to content provided by other sites. Please contact the content providers to delete copyright contents if any and email us, we'll remove relevant links or contents immediately.