The Borgia Confessions by Alyssa Palombo
Author:Alyssa Palombo , Date: April 5, 2020 ,Views: 262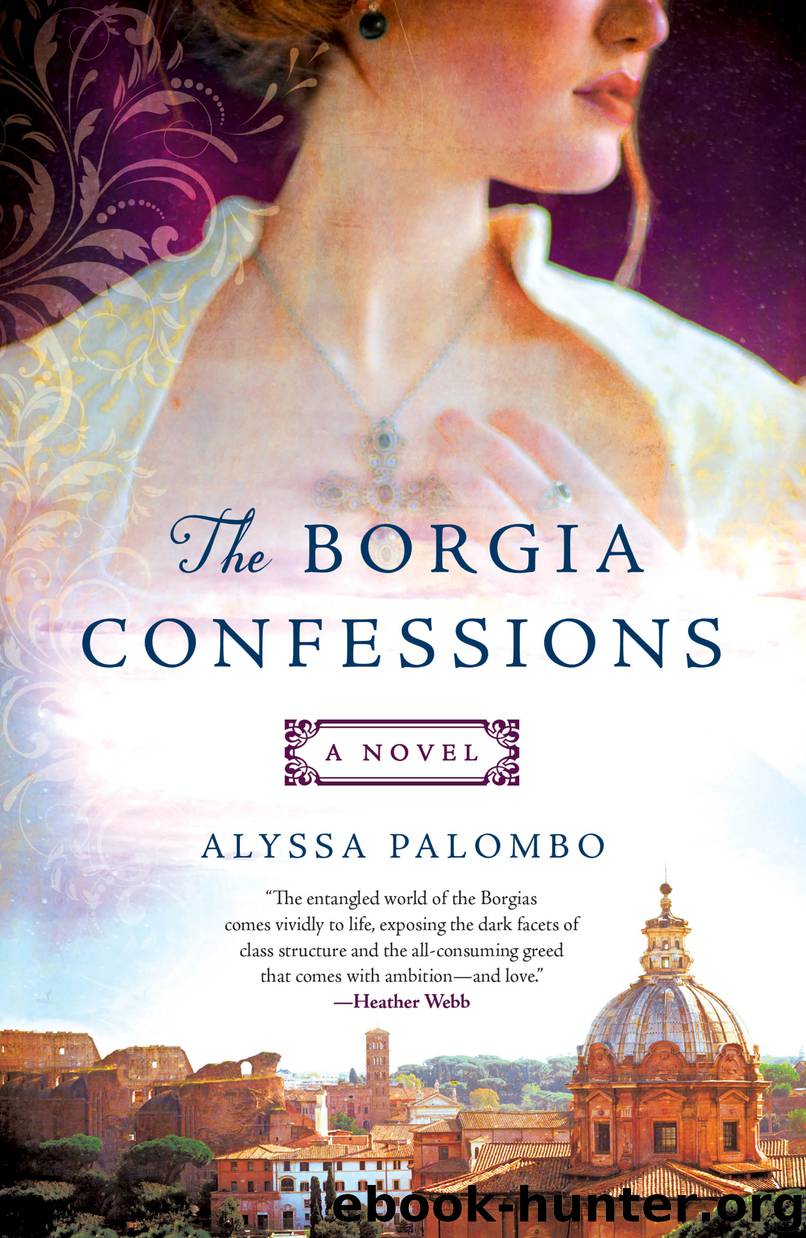 Author:Alyssa Palombo
Language: eng
Format: epub
Publisher: St. Martin's Publishing Group



Chapter 37
MADDALENA
The fan I was waving barely stirred the stifling air inside St. Peter's, where Madonna Lucrezia was attending Mass with her family as well as some visiting dignitaries. One of the older cardinals was presiding and—God forgive me—the droning monotony of his voice did nothing to combat the Roman heat and inspire sharper attention.
I did not usually attend Lucrezia outside of the palazzo, but given the heat, she had requested Isabella and I come to fan her and the Princess of Squillace during the Mass. I had happily obeyed, glad to attend Mass in the company of Lucrezia and the Holy Father—and the Cardinal of Valencia—but as the sweat trickled down my back beneath my chemise, I saw my enthusiasm had been misplaced.
Still, I was delighted Lucrezia was back in Rome, and to be serving her again. I had taken up more embroidery work from her, as well as the mending of her finer gowns. After Sancia of Aragon's arrival—she and her husband were residing in Palazzo Santa Maria in Portico—she had noticed my work and exclaimed over it, leading to my doing such work for her as well. I was busy indeed. And Lucrezia had graciously seen to a raise in my wages over the additional work. I was thrilled with the turn of events: more money for doing more of what I loved. Even closer I came to my dream, distant though it often seemed.
The Princess of Squillace leaned over and whispered something in Lucrezia's ear, too quietly for me to hear. Lucrezia giggled and glanced over her shoulder, looking at something behind and above her. "I don't know. Do we dare?" I heard her whisper back.
"I dare if you do," Sancia responded, her eyes alight with mischief.
Lucrezia giggled louder this time, and the elderly cardinal glared in her direction. Without warning, she rose to her feet. Startled, the ladies in her entourage did the same, as did Sancia and her ladies. Whispering and giggling the whole way, Lucrezia and Sancia led the women out of the pews and toward the staircase in the back of the sanctuary that led to the choir left.
Isabella turned a shocked gaze to me, and my mouth hung open in response. As the last of the ladies' entourage filed past us, we quickly scrambled to follow. My face burned with shame and uncertainty. One should never disrupt the Mass, but my place was at my mistress's side, was it not? Surely I could not be faulted for that?
By the time Isabella and I arrived in the choir loft, Lucrezia and Sancia had resettled themselves, their ladies around them, and were talking and laughing openly without bothering to whisper. Below us, the assembled congregation had turned to observe us, some staring with open shock, others outrage—including the cardinal saying the Mass. The Holy Father, however, beamed indulgently at his daughter and daughter-in-law from his chair at the front, and turned back to motion imperiously for the cardinal to continue. The man stuttered and stumbled several times before he regained his place.
Download


Copyright Disclaimer:
This site does not store any files on its server. We only index and link to content provided by other sites. Please contact the content providers to delete copyright contents if any and email us, we'll remove relevant links or contents immediately.