Summer in Provence by Lucy Coleman
Author:Lucy Coleman [Coleman, Lucy] , Date: July 21, 2020 ,Views: 174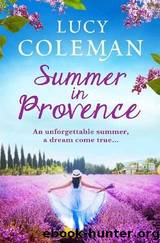 Author:Lucy Coleman [Coleman, Lucy]
Language: eng
Format: epub
Publisher: Boldwood Books
Published: 2020-04-01T16:00:00+00:00



19
A Bitter Truth
We linger over our meal and there's a lot of bantering and laughter as Owen regales us with stories from being on exercise. I hardly recognised the man he is turning into, as he seems to have reinvented himself. The short haircut, lean, muscular body and a new air of confidence gives him a certain swagger. I try not to let the change in him bring a tear to my eye, as it's been threatening to do all evening. It makes my heart swell to see him so happy and know that he has finally found his vocation in life.
Hannah was a bit reserved in Nico's presence at first. She seemed suspicious of him and kept glancing back and forth between the two of us. I know it's strange for her, seeing me in a totally different environment and without Aiden by my side. But eventually she relaxed a little and spent a lot of the evening gazing at Liam as they discreetly held hands out of sight beneath the table.
Nico was brilliant. I was surprised that he'd remembered so many of the little things I'd told him about them all. He engaged each of them in conversation, drawing them out in such a natural way, making the evening entirely about them. My family.
It's just after eleven o'clock when we finally take our leave, and Nico and I head back to the château after sorting out their rooms.
'Are you working tonight?' he enquires, shutting the front door behind us.
'Yes. You?'
We exchange knowing little smiles.
'Of course. The bills don't pay themselves.'
'But you seem happier this evening. Lighter.' It's been very evident, so something good must have happened.
'There's still money in the bank, thanks to the way everyone has pulled together. We did it, Fern. Le Havre de Paix à Bois-Saint-Vernon is born. The retreat becomes The Haven.'
'Oh, I love that name. It's so peaceful here. It's perfect, Nico.'
'We could actually be in profit if bookings continue to stream in, instead of it being a constant struggle to break even. This is what I've always dreamed of, Fern. This place has a spiritual connection and it would be wrong of me to ignore that. But this year has been tough, and it has taken almost everything I have just to keep going. Now, I feel optimistic again and, hopefully, when the next batch of paintings go off, one or two will sell quickly and I will have my safety net back.'
As he swings open the door to the studio and I pass through in front of him, our eyes meet for a brief second. I can see how relieved he is and how crucial what we've all been doing has been to the viability of this place; for everyone to whom this is home for the foreseeable future.
'I'm thrilled for you, Nico. No one could have done more to make this a success, and everyone is excited about the new direction you're taking it in.'
'The people here are my family,
Download


Copyright Disclaimer:
This site does not store any files on its server. We only index and link to content provided by other sites. Please contact the content providers to delete copyright contents if any and email us, we'll remove relevant links or contents immediately.