Star Trek Log Seven: The Counter-Clock Incident by Alan Dean Foster
Author:Alan Dean Foster [Foster, Alan Dean] , Date: November 20, 2023 ,Views: 45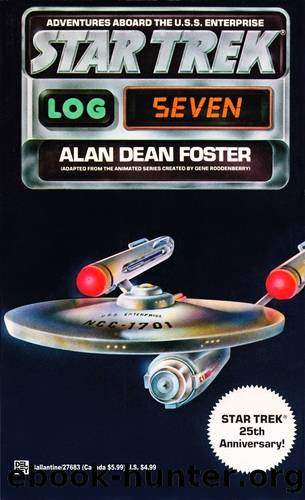 Author:Alan Dean Foster [Foster, Alan Dean]
Language: eng
Format: epub
ISBN: 0345276833
Publisher: Ballantine Books
Published: 1991-08-31T21:00:00+00:00



On board the Klingon cruiser, Kumara examined the flow of information and muttered into a pickup. "Stand by, Engineering. Not yet, Kritt," he added, noticing one of the navigator's hands hovering tensely over a control. "Learn patience and attain permanence."
"Converter temperature is nearing the melting point, Captain," Spock reported, not looking up from his instrumentation. "Coming up on phaser range. Shall I prepare to fire?"
"Negative, Mr. Spock." There was a beep at his arm. "What is it, Scotty?"
The chief engineer's worried voice sounded distantly over the speaker, distorted by the now deafening whine of the engines.
"Captain, we canna keep this up much longer without melting something critical!"
"Hold steady a bit longer, Scotty."
"A bit is all it'll be. Captain. Engineerin' out."
Download


Copyright Disclaimer:
This site does not store any files on its server. We only index and link to content provided by other sites. Please contact the content providers to delete copyright contents if any and email us, we'll remove relevant links or contents immediately.