Soldier of Crusade by Jack Ludlow
Author:Jack Ludlow , Date: March 25, 2014 ,Views: 269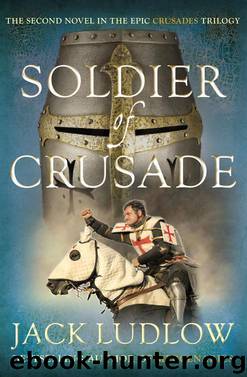 Author:Jack Ludlow
Language: eng
Format: mobi, epub
Tags: Historical
ISBN: 9780749011055
Publisher: Allison & Busby
Published: 2012-11-01T04:00:00+00:00



'Are they mad, these Westerners?' asked Manuel Boutoumites, when the Emperor imparted the request from Tacitus to him. 'Boats?'
'There is a communication from Bohemund as well.'
'Which I trust Your Highness will ignore.'
For once Alexius was sharp with a man he held in high esteem. 'Do not let your hatred blind you to his ability. He is a fine general and a mighty fighter and he is born from a stock that has beaten us at every turn.'
'Forgive me, Highness,' Boutoumites replied, his voice humble.
High in favour he might be but the Curopalates knew that could be withdrawn at the click of a finger. The monastic poorhouses were not full of those who had fallen from imperial favour, but there were enough inmates, many of them lacking eyes, to induce caution in even the highest-placed courtier.
'Which I do,' Alexius replied, well aware of the effect of his admonishment, this while pulling a paper from the pocket of his gown. 'In this Bohemund says, and I see it as a mark of the man, that the notion was advanced first by his nephew, not him.'
'He seeks to elevate Tancred?' Boutoumites asked, cloaking an opinion in a question.
Alexius was not fooled. 'He too is a de Hauteville, and if he is half the man his grandsire was I would fear him as much as I do his uncle. But, and this is the nub, Bohemund insists that what is required is not large vessels, but ones of a size enough to perhaps carry a dozen fighters, and that tends toward the most capacious fishing boats.'
'Heavily armed knights fighting on water in fishing boats?'
Boutoumites waved and extended an upright hand, indicating the obvious risk of capsize, not improbable given anyone fighting afloat would have to stand to do so.
'I think the Turks will fear to drown as much as a Christian and they may well do so, Manuel, and what is that to us in either case? But it might be a key to unlock Nicaea, so I say it must be attempted.'
'Am I to commandeer the boats?'
'Yes, but take a strong escort, the fishermen of Constantinople are feisty fellows and will not give them up easily.'
Other functionaries were despatched to get hold of the largest ox carts and the animals to pull them, which left Alexius musing on the possibilities. He sought to conjure up the scene on Lake Askanian, a body of water he knew well, having been a besieger of Nicaea himself and a failed one. This led him to wonder as to why he had not thought of the idea himself when he had been in command. It was the state of the old Roman-built road, of course, which had been in desperate repair every time he had marched an army to the Turkish stronghold.
The Crusaders had repaired it – was that too a de Hauteville suggestion? He did not know but it did alter matters. To transport the boats he had in mind would not be easy, but it was possible and there was a bonus if it did the trick.
Download


Copyright Disclaimer:
This site does not store any files on its server. We only index and link to content provided by other sites. Please contact the content providers to delete copyright contents if any and email us, we'll remove relevant links or contents immediately.