Scourge of Wolves_Master of War by David Gilman
Author:David Gilman [Gilman, David] , Date: December 17, 2019 ,Views: 287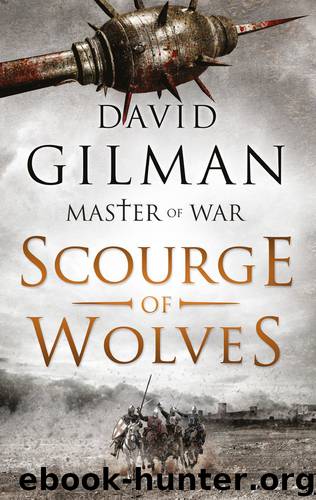 Author:David Gilman [Gilman, David]
Language: eng
Format: epub
ISBN: 9781784974503
Amazon: 1784974501
Publisher: Head of Zeus
Published: 2018-05-02T00:00:00+00:00



CHAPTER THIRTY-SIX
It was close to mid-morning when Blackstone led the others back into the monastery. Meulon carried a small deer carcass across his shoulders, brought down soon after dawn by one of Will Longdon's arrows. Men greeted them from where they loitered seemingly relaxed, but Blackstone noted that they had been placed strategically either to kill any monk attempting to attack them or, should an enemy approach from outside the walls, to easily seize a vantage point.
Blackstone beckoned one of the monks. 'Take my man to the kitchen. He'll butcher the deer and give you the offal to cook. We will share the meat. Prior Albert has given his permission.'
Meulon followed the grinning monk. Cooked liver, kidney and heart were a welcome treat and if the big man was as skilled with a knife as their own cook then there might even be enough to go around. At the very least the deer's bones would be put into the soup.
Killbere followed Blackstone to the water trough where he washed his face and hands. 'Two men left at midnight,' said Killbere quietly.
'We have them,' said Blackstone, shaking the water from his hair. 'Tied and gagged. They can't raise the alarm.'
'No doubt they were willing to tell you what you needed to know.'
'Once Meulon raised his knife to their throat. It frightened them enough for them to piss themselves and tell me everything.'
'And?
'Prior Albert had instructed them to go to Felice and tell them that English brigands had sought shelter here and that we would soon be travelling north. It would have given them time to ambush us.'
'The bastard prior is in their pay.'
'No doubt.'
'It fits,' said Killbere. 'I had the monastery chronicle looked at. There's enough largesse from this Countess Catherine de Val. And before her, a year or more back, her husband. His death was recorded. Killed at the hands of skinners like he said, but butchered. He had a bad death.'
'Is there a good one to be had? Anything else?'
'Nothing of use to us. I sent the boy. He did well.'
'Well, now we must act normally. Another few days here will suit us. Bring the men together.'
* * *
While the monks were engaged in their duties Blackstone gathered his captains and Tait, with the sergeants and ventenars, and told them what had happened during the night. 'I'm going to send two men to take the monks' place. Once they deliver the message that we are riding north it will draw out troops from behind the town's walls. By the time they move to ambush us we will already be on the road and lying in wait for them. Tait, I want you to go into the Felice with one of Beyard's Gascons.' Two or three of the men gestured they would be willing to go with Tait. Blackstone pointed to one of the men, Othon. 'You go with him, you're about the right size for one of the monks' habit.'
'Sir Thomas,' said Alain, 'Master Tait might raise too much suspicion.
Download


Copyright Disclaimer:
This site does not store any files on its server. We only index and link to content provided by other sites. Please contact the content providers to delete copyright contents if any and email us, we'll remove relevant links or contents immediately.