Schindler's Ark by Thomas Keneally
Author:Thomas Keneally , Date: March 25, 2014 ,Views: 1262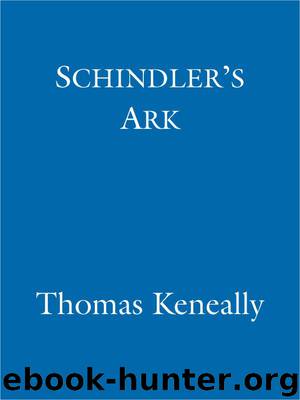 Author:Thomas Keneally
Language: eng
Format: mobi, epub
ISBN: 9781848940208
Publisher: Hodder & Stoughton
Published: 2006-12-28T10:00:00+00:00



TWENTY-FOUR
The Oskar Schindler who dismounted from his horse these days in the factory yard of Emalia was still a boomtime businessman. He looked sleekly handsome in the style of the film stars George Sanders and Curt Jurgens, to both of whom he would always be compared. His hacking jacket and jodhpurs were tailored, his riding boots had a high shine. He looked like a man to whom it was profit all the way.
Yet he would return from his rural rides and go upstairs to face the sort of bills novel even to the history of an eccentric enterprise such as Deutsche Email Fabrik.
Bread shipments from the bakery at Plaszów to the factory camp in Lipowa Street Zablocie were a few hundred loaves delivered twice a week and an occasional token half truckload of turnips. These few high-backed and lightly laden trucks were no doubt written large and multiplied in Commandant Goeth's books, and such trusties as Chilowicz sold off on behalf of the Herr Hauptsturmführer the difference between the mean supplies that arrived at Lipowa Street and the plenteous and phantom convoys which Goeth put down on paper. If Oskar had depended on Amon for prison food, his nine hundred internees would each have been fed perhaps three-quarters of a kilo of bread a week and soup every third day. On missions of his own and through his manager Oskar was spending fifty thousand zloty a month on black-market food for his camp kitchen. Some weeks he had to find over three thousand round loaves. He went to town and spoke to the German supervisors in the big bakeries, and had Reichsmarks and two or three bottles in his briefcase.
Oskar did not seem to realise that throughout Poland that summer of 1943 he was one of the champion illicit feeders of prisoners, that the pall of hunger which should by SS policy hang over the great death factories and over every one of the little, barbed-wire forced-labour slums was lacking in Lipowa Street in a way that was dangerously visible.
That summer a host of incidents occurred which augmented the Schindler mythology, the almost religious supposition among many prisoners of Plaszów and the entire population of Emalia that Oskar was a provider of outrageous salvation.
Early in the career of every subcamp, senior officers from the parent Lager paid a visit to ensure that the energy of the slave labourers was stimulated in the most radical and exemplary manner. It is not certain exactly which members of Plaszów's senior staff visited Emalia, but some prisoners and Oskar himself would always say that Goeth was one of them. And if not Goeth it was Leo John, or Scheidt. Or else Josef Neuschel, Goeth's protégé. It is no injustice to mention any of their names in connection with 'stimulating energy in a radical and exemplary manner'. Whoever they were, they had already in the history of Plaszów taken or condoned fierce action. And now, visiting Emalia, they spotted in the yard a prisoner called Lamus pushing a barrow too slowly across the factory yard.
Download


Copyright Disclaimer:
This site does not store any files on its server. We only index and link to content provided by other sites. Please contact the content providers to delete copyright contents if any and email us, we'll remove relevant links or contents immediately.