Puccini Without Excuses by William Berger
Author:William Berger [Berger, William] , Date: August 5, 2020 ,Views: 165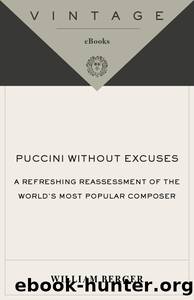 Author:William Berger [Berger, William]
Language: eng
Format: epub
ISBN: 978-0-307-54290-8
Publisher: Knopf Doubleday Publishing Group
Published: 2005-08-14T16:00:00+00:00



Lisette and Prunier wander into the garden, bickering. She had made her debut as a singer the night before in Nice—and flopped! She blames Prunier for putting her up to it, and looks for Magda. Prunier defends himself: he only wanted to make her a star to improve his conquest! She tells him to stop putting on airs. She would endure anything except another night like the night before! Even now, she seems to hear voices. Are they chasing her to mock her again? Prunier gets her to relax in the calm of the garden. The voices she heard were only a butler with a letter for Ruggero. Magda appears, surprised to see the guests. Prunier apologizes for interrupting her solitude. Magda is spoken of in Paris—no one believes this solitary life is right for her. Magda protests with sadness that she is perfectly happy. Lisette asks to return to Magda's service, and Magda immediately accepts. Prunier sneers. Lisette is nothing but what she has always been. Perhaps Magda will make the same discovery about herself. Magda tells him to be quiet, but Prunier protests that it was his duty to tell her this, and now he has performed that duty. Rambaldo, who has heard about Magda's problems, asked Prunier to let her know that he was available to resume their prior relationship whenever she desired. He begs his leave, making derogatory comments to Lisette, who returns in kind. Farewell forever, he bids her, and she expresses satisfaction at his parting. Before he leaves, he asks her in a whisper what time she is off work. "At ten," she answers. "I'll be waiting for you," he replies, and exits with great dignity.
Download


Copyright Disclaimer:
This site does not store any files on its server. We only index and link to content provided by other sites. Please contact the content providers to delete copyright contents if any and email us, we'll remove relevant links or contents immediately.