Outlander [3] Voyager by Diana Gabaldon
Author:Diana Gabaldon [Gabaldon, Diana] , Date: December 25, 2017 ,Views: 2037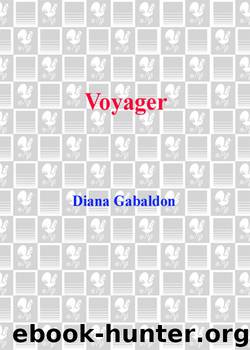 Author:Diana Gabaldon [Gabaldon, Diana]
Language: eng
Format: epub, mobi
Tags: Fiction, General, Fantasy, Fantasy Fiction, Historical, Romance, Love Stories, Time Travel, Scotland, Randall; Claire (Fictitious Character), Man-Woman Relationships - Scotland
ISBN: 0440217563
Publisher: Dell
Published: 1994-01-01T05:00:00+00:00



37
WHAT'S IN A NAME
After giving him a shot and settling him comfortably, I sat watching until he fell asleep again, allowing him to hold my hand until his own grip relaxed in sleep and the big hand dropped slack by his side.
I sat by his bed for the rest of the night, dozing sometimes, and rousing myself by means of the internal clock all doctors have, geared to the rhythms of a hospital's shift changes. Two more shots, the last at daybreak, and by then the fever had loosed its hold perceptibly. He was still very warm to the touch, but his flesh no longer burned, and he rested easier, falling asleep after the last shot with no more than a few grumbles and a faint moan as his arm twinged.
"Bloody eighteenth-century germs are no match for penicillin," I told his sleeping form. "No resistance. Even if you had syphilis, I'd have it cleaned up in no time."
And what then? I wondered, as I staggered off to the kitchen in search of hot tea and food. A strange woman, presumably the cook or the housemaid, was firing up the brick oven, ready to receive the daily loaves that lay rising in their pans on the table. She didn't seem surprised to see me, but cleared away a small space for me to sit down, and brought me tea and fresh girdle-cakes with no more than a quick "Good mornin' to ye, mum" before returning to her work.
Evidently, Jenny had informed the household of my presence. Did that mean she accepted it herself? I doubted it. Clearly, she had wanted me to go, and wasn't best pleased to have me back. If I was going to stay, there was plainly going to be a certain amount of explanation about Laoghaire, from both Jenny and Jamie. And I was going to stay.
"Thank you," I said politely to the cook, and taking a fresh cup of tea with me, went back to the parlor to wait until Jamie saw fit to wake up again.
People passed by the door during the morning, pausing now and then to peep through, but always went on hurriedly when I looked up. At last, Jamie showed signs of waking, just before noon; he stirred, sighed, groaned as the movement jarred his arm, and subsided once more.
I gave him a few moments to realize that I was there, but his eyes stayed shut. He wasn't asleep, though; the lines of his body were slightly tensed, not relaxed in slumber. I had watched him sleep all night; I knew the difference.
"All right," I said. I leaned back in the chair, settling myself comfortably, well out of his reach. "Let's hear it, then."
A small slit of blue showed under the long auburn lashes, then disappeared again.
"Mmmm?" he said, pretending to wake slowly. The lashes fluttered against his cheeks.
"Don't stall," I said crisply. "I know perfectly well you're awake. Open your eyes and tell me about Laoghaire."
The blue eyes opened and rested on me with an expression of some disfavor.
Download


Copyright Disclaimer:
This site does not store any files on its server. We only index and link to content provided by other sites. Please contact the content providers to delete copyright contents if any and email us, we'll remove relevant links or contents immediately.