Oscar Zeta Acosta by The Autobiography of a Brown Buffalo
Author:The Autobiography of a Brown Buffalo [Buffalo, The Autobiography of a Brown] , Date: August 6, 2020 ,Views: 276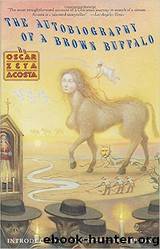 Author:The Autobiography of a Brown Buffalo [Buffalo, The Autobiography of a Brown]
Language: eng
Format: epub
Published: 0101-01-01T00:00:00+00:00



9
All through grammar school my old man had said to me, "You do what I say until you're fourteen. That's when I left home and started taking care of myself. You obey me until then and then you'll be on your own." So on my fourteenth birthday I walked into the house smoking a pipe and my mother slapped me smack in the face, knocking the pipe to the floor. I picked it up and stuck it back in my mouth. "I'm fourteen today, mom. Today's my birthday."
She slapped me again and said, "I don't care if you're forty! You're not going to smoke in front of me!"
"But I had a deal with my dad. He said I could do what I wanted. He's always told me that."
"Then go smoke in front of him, malcriado! You're going to respect me or I'll slap you till it hurts."
I picked up the pipe and held it in my hand. "But, mom. It doesn't hurt anymore."
She slapped me again and I simply smiled at her. Tears swelled in her eyes and the romance was over. She ran into her bedroom and cried until my father came home. It was April the eighth, 1949 and I was about to complete my first year of high school. (I had been enrolled in the first grade a year early, my mother had lied to the teacher because she couldn't afford a babysitter and had to work in the fields with my father. Because of my size no one had questioned my age. The following year, on April the eighth, 1942, Miss Anderson announced to the class that it was my birthday, and that I was now seven years old. I corrected her and insisted I was only six. It was the only time I argued with Miss Anderson. She took me to the principal and they finally called in my mother who admitted to them that she had lied. So I was always the youngest one in my class all through school. I was also the biggest.)
My father held true to his promise. After my fourteenth birthday I was allowed to be on my own. But I had the good sense not to push it. Besides, what would a woman know of such things as smoking and drinking and carousing around. But I could stay out and go where I wanted as long as I didn't throw it in her face and maintained the proper respect. Since most freshmen at Oakdale Joint Union High School did not have similar bargains with their fathers, I started to hang around with the older guys I knew on the football team and the band, my two principal occupations during high school when I wasn't working at the Pink Elephant, the beer bar my father and uncle owned my last three years of school.
For six months my father and his brother Tony had argued nightly about what kind of business they would purchase with their G.I. loans. For two months
Download


Copyright Disclaimer:
This site does not store any files on its server. We only index and link to content provided by other sites. Please contact the content providers to delete copyright contents if any and email us, we'll remove relevant links or contents immediately.