One Day In Summer by Shari Low
Author:Shari Low [Low, Shari] , Date: August 6, 2020 ,Views: 168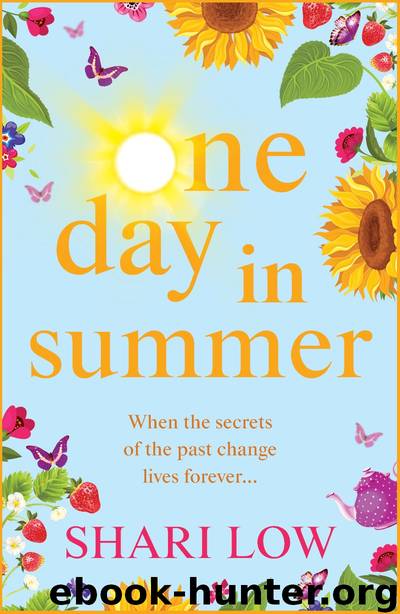 Author:Shari Low [Low, Shari]
Language: eng
Format: epub
Publisher: Boldwood Books



19
Agnetha and Celeste – 1997
As soon as the lift doors closed, Aaron slipped his arm around Agnetha's waist. 'I can't believe you said yes.'
She kissed him slowly, sexily. 'I can't believe you asked me.'
'I can't believe I haven't vomited,' Celeste murmured behind them.
Agnetha immediately broke off from the embrace, suddenly self-conscious and worried they were being insensitive to Celeste. Zac had run out on her friend this morning and now she, Agnetha Sanders, was having the most wonderful, romantic day of her life.
However, that didn't stop the warm fuzzy rush that made her tummy flip again. They were doing this. They were actually doing it. The hotel manager had tracked them down after the proposal had caused a sensation at the pool and offered to arrange the whole thing for them. They were getting married tonight, at 7 p.m., at one of the wedding chapels in the hotel. At the pool earlier, Aaron had gone back on the microphone and invited everyone at the pool to join them, to uproarious cheers. The hotel had laid on a car to take them downtown to pick up a Nevada marriage licence at the Clark County Marriage License Bureau.
It had taken less than an hour until they were back and riding the lift up to their hotel floor.
The doors pinged open. 'Come to our room, Celeste, so we can decide what we're doing.'
Celeste wasn't exactly radiating love and joy, but hopefully she'd get used to the idea. Of course it was a shock. Agnetha was struggling to take it in herself, but that didn't mean that it wasn't right or that they were doing it for the wrong reasons.
When the fuss at the pool had subsided, and the two of them were alone again in the cabana, Aggs was still in a state of shock. 'Did that really happen?'
Aaron had kissed her neck. 'It happened.'
She'd needed more clarity. 'Wait a minute though. Why now? Why today. Why like that?' If anyone had asked her to guess how Aaron would propose, the last thing she'd expect was a public spectacle. Not that she was complaining about the outcome.
'Because I love you. Because I want you to be my wife. Because I want to spend the rest of my life with you. Because I don't want you to leave next week. And because now you'll be able to extend your visa because you've married an American citizen.'
That had stunned her into silence. He'd done it for a visa?
There was a split second of doubt. Would he have wanted this anyway? Was his hand being forced? Was this going to be a huge mistake?
Then she'd felt his arms go around her and all her doubts had disappeared. This incredible man was actually going to marry her so that they could be together. That might just be the most romantic thing she'd ever heard.
She was in, 100 per cent sold. Even if her best friend clearly wasn't.
A welcome blast of cool air hit them as they entered the room.
Download


Copyright Disclaimer:
This site does not store any files on its server. We only index and link to content provided by other sites. Please contact the content providers to delete copyright contents if any and email us, we'll remove relevant links or contents immediately.