Old French Fairy Tales by Comtesse de Segur
Author:Comtesse de Segur , Date: April 14, 2020 ,Views: 332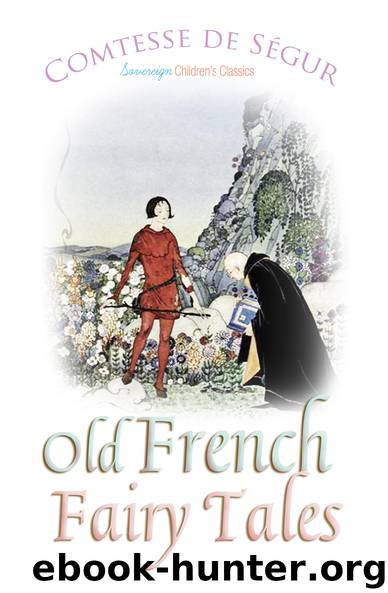 Author:Comtesse de Segur
Language: eng
Format: epub
Tags: French tales, fairy tale, children, magic, bedtime, stories, folklore, good and evil, family, society, social, heart-warming
Publisher: Sovereign
Published: 2015-03-25T00:00:00+00:00



THE PRINCE GRACIOUS
WHILE Rosalie was thus quietly sleeping, the prince Gracious was engaged in a hunt through the forest by torch-light. The fawn, pursued fiercely by the dogs, came trembling with terror to crouch down near the brook by which Rosalie was sleeping. The dogs and gamekeepers sprang forward after the fawn. Suddenly the dogs ceased barking and grouped themselves silently around Rosalie. The prince dismounted from his horse to set the dogs again upon the trail of the deer but what was his surprise to see a lovely young girl asleep in this lonely forest! He looked carefully around but saw no one else. She was indeed alone—abandoned. On examining her more closely, he saw traces of tears upon her cheeks and indeed they were still escaping slowly from her closed eyelids.
Rosalie was simply clothed but the richness of her silk dress denoted wealth. Her fine white hands, her rosy nails, her beautiful chestnut locks, carefully and tastefully arranged with a gold comb, her elegant boots and necklace of pure pearls indicated elevated rank.
Rosalie did not awake, notwithstanding the stamping of the horses, the baying of the dogs and the noisy tumult made by a crowd of sportsmen.
The prince was stupefied and stood gazing steadily at Rosalie. No one present recognized her. Anxious and disquieted by this profound sleep, Prince Gracious took her hand softly. Rosalie still slept. The prince pressed her hand lightly in his but even this did not awaken her.
Turning to his officers, he said: "I cannot thus abandon this unfortunate child, who has perhaps been led astray by some design, the victim of some cruel wickedness."
"But how can she be removed while she is asleep, prince," said Hubert, his principal gamekeeper, "can we not make a litter of branches and thus remove her to some hostel in the neighborhood while your highness continues the chase?"
"Your idea is good, Hubert. Make the litter and we will immediately place her upon it, only you will not carry her to a hostel, but to my palace. This young maiden is assuredly of high birth, and she is beautiful as an angel. I will watch over her myself, so that she may receive the care and attention to which she is entitled."
Hubert, with the assistance of his men, soon arranged the litter upon which Prince Gracious spread his mantle; then approaching Rosalie, who was still sleeping softly, he raised her gently in his arms and laid her upon the cloak. At this moment Rosalie seemed to be dreaming. She smiled and murmured, in low tones:—
"My father! my father! saved for ever! The Queen of the Fairies! The Prince Gracious! I see him; he is charming!"
The prince, surprised to hear his name pronounced, did not doubt that Rosalie was a princess under some cruel enchantment. He commanded his gamekeepers to walk very softly so as not to wake her and he walked by the side of the litter.
On arriving at the palace, Prince Gracious ordered that the queen's apartment should be prepared for Rosalie.
Download


Copyright Disclaimer:
This site does not store any files on its server. We only index and link to content provided by other sites. Please contact the content providers to delete copyright contents if any and email us, we'll remove relevant links or contents immediately.