Number Go Up by Zeke Faux
Author:Zeke Faux [Faux, Zeke] , Date: September 19, 2023 ,Views: 55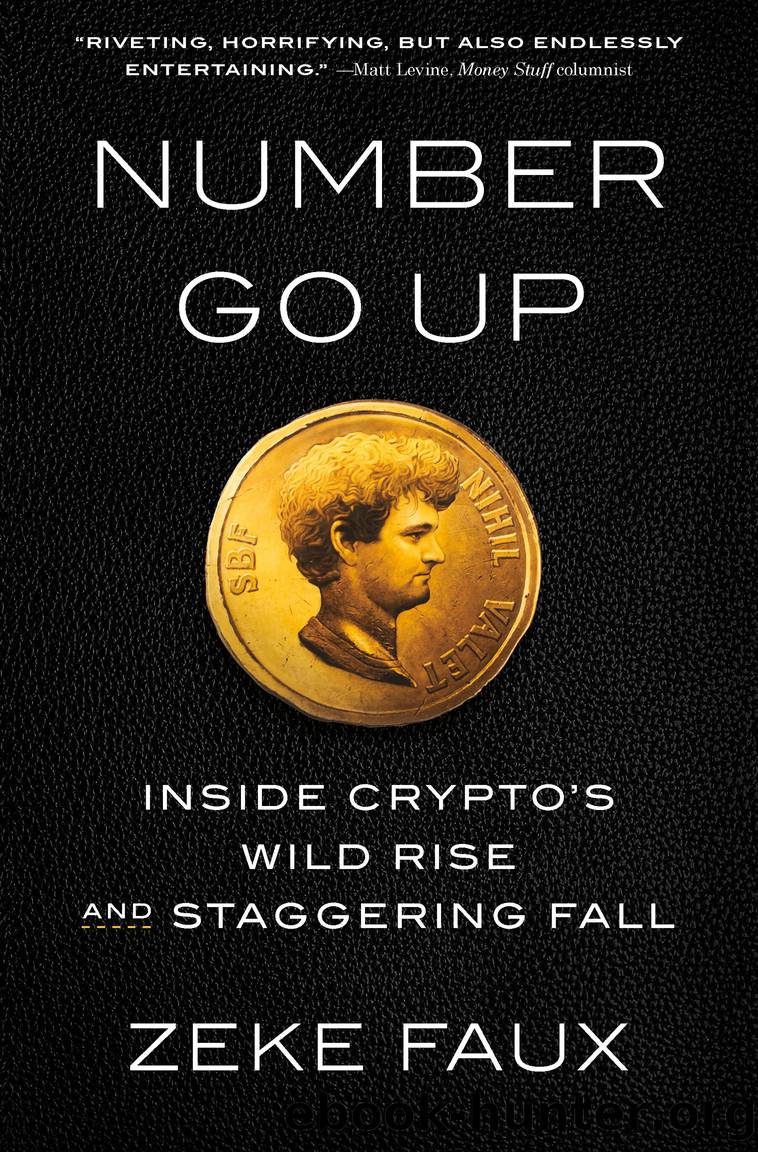 Author:Zeke Faux [Faux, Zeke]
Language: eng
Format: epub
Publisher: Crown
Published: 2023-09-12T00:00:00+00:00



* * *
—
ACROSS FROM THE stage, in VIP booths, I spotted the founders of the Bored Ape Yacht Club. Originally anonymous, they'd been outed by BuzzFeed two months earlier.
Wylie Aronow, thirty-five, six-foot-two and buff in a ratty T-shirt, with a lifelike portrait of Charles Bukowski tattooed on his right arm, towered over Greg Solano, a bookish-looking thirty-three-year-old who once reviewed poetry for a small literary journal. A little more than a year earlier, when the two friends started texting about creating an NFT, Solano was working in publishing and Aronow was unemployed. Now, based on their company's valuation and their crypto holdings, I figured both were billionaires.
Their company, Yuga Labs, took in $2 million from the original sale of Bored Apes in April 2021. Personally, I would have absconded to Dubai with the proceeds before anyone caught on to my scam. But Solano and Aronow didn't. Instead, they moved quickly to capitalize.
Beeple, the famous NFT artist, introduced Aronow and Solano to Guy Oseary, Madonna's manager, who took them on as a client. Oseary was the one who connected many of the celebrities to the Bored Ape Yacht Club.
Most didn't go through the whole ridiculous Coinbase–Ethereum–fox icon process. A company called MoonPay, which Paris Hilton had mentioned on Jimmy Fallon's show, had provided what it called a "white glove service for high net worth individuals who want to purchase NFTs in the simplest way without all the hassle." (MoonPay took advantage of its celebrity ties to raise money at a $3.4 billion valuation.)
Aronow, Solano, and their colleagues started producing more ape-related NFTs. They made $300 million selling plots of land in an online game for the Bored Apes—they called it a metaverse—that didn't exist yet. Then they created ApeCoins, a currency for that imaginary world, gave some to Ape owners, and kept about $1 billion worth for their company and themselves. (Yuga Labs claimed ApeCoin was cooked up independently by something called a DAO.) And no one complained that they'd been tricked. For some reason, people just wanted to pay real money for ugly ape cartoons. They essentially had a license to print money.
A presentation to venture capitalists projected that Yuga Labs would take in $455 million of net revenue for 2022, with an unheard-of 84 percent profit margin. Of course the venture capitalists bought in, led by Axie Infinity–backers Andreessen Horowitz and Sam Bankman-Fried's FTX, which seemed to have so much money it was backing almost every crypto start-up. The investment round, announced in March 2022, valued Yuga Labs at $4 billion. That was as much as Disney paid to acquire Lucasfilm and the Star Wars and Indiana Jones franchises. The Bored Apes, of course, were not the stars of a popular movie, or the stars of anything at all. But in an amazing bit of chutzpah, NFT promoters claimed that was a good thing.
Yuga Labs said that each person who bought a Bored Ape would own the rights to them as "intellectual property"—meaning they were free to license them for use in products or movies.
Download


Copyright Disclaimer:
This site does not store any files on its server. We only index and link to content provided by other sites. Please contact the content providers to delete copyright contents if any and email us, we'll remove relevant links or contents immediately.