No Angel: My Harrowing Undercover Journey to the Inner Circle of the Hells Angels by JAY DOBYNS;NILS JOHNSON-SHELTON
Author:JAY DOBYNS;NILS JOHNSON-SHELTON , Date: October 1, 2020 ,Views: 462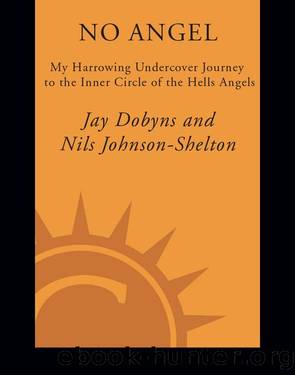 Author:JAY DOBYNS;NILS JOHNSON-SHELTON
Language: eng
Format: mobi
ISBN: 9780307452177
Publisher: Crown Publishers
Published: 2009-06-17T21:00:00+00:00



ALL THE UNDERCOVERS had deep conversations that night. I had mine with Smitty, Timmy got more information from Billy about the weapons cache he'd be guarding, and JJ talked self-defense strategies with the women. Lydia wanted to know if JJ regularly packed. JJ said she did. Lydia said that if things turned sour, their job would be to gather the Old Ladies, get them behind the bar, and take up positions to defend them. She said, "You and me, we'll shoot whoever the fuck comes near us."
As a law-enforcement officer, my first job is to prevent things like this from happening. After the dinner party, the Black Biscuit task force notified the Laughlin and Bullhead police departments to be on the lookout. We hoped a Mongols–Angels confrontation wouldn't even come to pass. But if the Mongols didmanage to reach the Inferno and things turned bad, then my second job would kick in: protecting myself and my fellow operatives. This wouldn't be all bad: If the Mongols showed and I was forced to protect the Solos and the Angels and lived to tell the tale, then my credibility would be furthered.
JJ was understandably nervous. She didn't carry openly like the rest of us—like Lydia, her pistol was in her purse. She'd never been in a draw-down or fired her weapon in a "live" situation.
So we decided to go over some things.
We'd spent the morning at the Patch, and when we got back to the Verano Circle house we were greeted by a snoring Eric Clauss, who'd crashed out on our couch. We went about our business like he was a part of the family. When he finally woke up he grabbed a beer and walked into the garage. The door was open and the afternoon light streamed in. He took a long swig of beer and scratched his butt.
JJ and I sat on my bike. I had a cigarette in my mouth. I smoked it without the use of my hands, which I kept on the handlebars.
JJ practiced drawing my Glocks from behind me. She reached around my torso and crossed her arms. She pushed her chest into my back. She unsnapped the holsters with her thumbs, then drew the gun on the left with her right hand and vice versa. She uncrossed her arms quickly and came out blazing, a black pistol on both sides at shoulder height, ready to fire. She holstered them and did it again. And again. And again.
And again.
Eric watched and drank his beer. After a while he asked, "You guys are fuckin serious, huh?"
The guns were holstered. JJ formed her right hand into a pistol, pointed it at Eric, smiled her generous smile, and said, "Yup." I just nodded.
Download


Copyright Disclaimer:
This site does not store any files on its server. We only index and link to content provided by other sites. Please contact the content providers to delete copyright contents if any and email us, we'll remove relevant links or contents immediately.