Me Before You by Jojo Moyes
Author:Jojo Moyes , Date: March 25, 2014 ,Views: 5493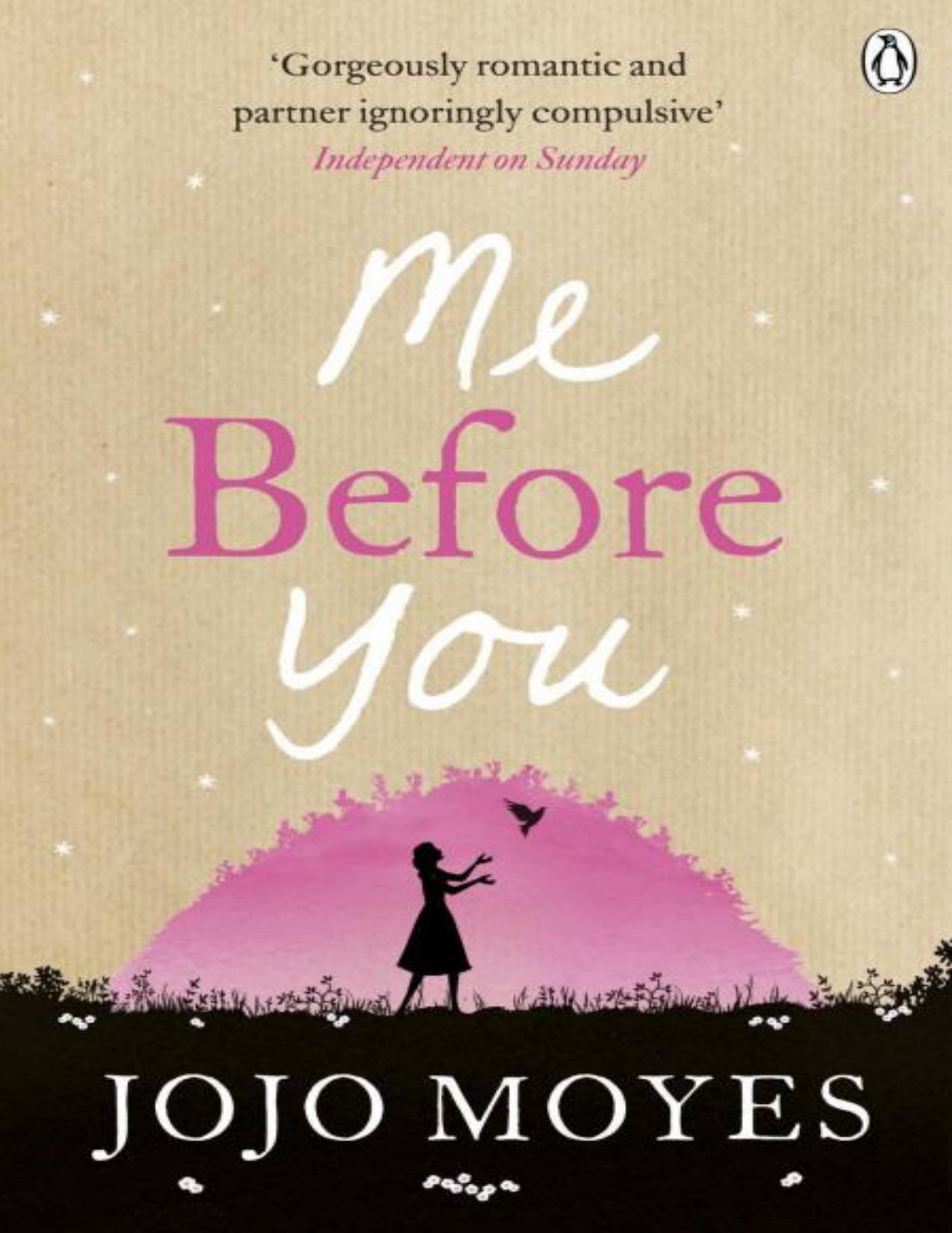 Author:Jojo Moyes
Language: eng
Format: mobi, epub, azw3
Tags: Fiction / Contemporary Women
ISBN: 9780143124542
Publisher: Penguin
Published: 2012-01-01T08:00:00+00:00



15
'So come on, then, Clark. What exciting events have you got planned for this evening?'
We were in the garden. Nathan was doing Will's physio, gently moving his knees up and down towards his chest, while Will lay on a blanket, his face turned to the sun, his arms spread out as though he was sunbathing. I sat on the grass alongside them and ate my sandwiches. I rarely went out at lunchtime any more.
'Why?'
'Curiosity. I'm interested in how you spend your time when you're not here.'
'Well … tonight it's a quick bout of advanced martial arts, then a helicopter is flying me to Monte Carlo for supper. And then I might take in a cocktail in Cannes on the way home. If you look up at around – ooh – around 2am, I'll give you a wave on my way over,' I said. I peeled the two sides of my sandwich apart, checking the filling. 'I'm probably finishing my book.'
Will glanced up at Nathan. 'Tenner,' he said, grinning.
Nathan reached into his pocket. 'Every time,' he said.
I stared at them. 'Every time what?' I said, as Nathan put the money into Will's hand.
'He said you'd be reading a book. I said you'd be watching telly. He always wins.'
My sandwich stilled at my lips. 'Always? You've been betting on how boring my life is?'
'That's not a word we would use,' Will said. The faintly guilty look in his eyes told me otherwise.
I sat up straight. 'Let me get this straight. You two are betting actual money that on a Friday night I would either be at home reading a book or watching television?'
'No,' said Will. 'I had each way on you seeing Running Man down at the track.'
Nathan released Will's leg. He pulled Will's arm straight and began massaging it from the wrist up.
'What if I said I was actually doing something completely different?'
'But you never do,' Nathan said.
'Actually, I'll have that.' I plucked the tenner from Will's hand. 'Because tonight you're wrong.'
'You said you were going to read your book!' he protested.
'Now I have this,' I said, brandishing the ten-pound note. 'I'll be going to the pictures. So there. Law of unintended consequences, or whatever it is you call it.'
I stood up, pocketed the money, and shoved the remains of my lunch into its brown paper bag. I was smiling as I walked away from them but, weirdly, and for no reason that I could immediately understand, my eyes were prickling with tears.
I had spent an hour working on the calendar before coming to Granta House that morning. Some days I just sat and stared at it from my bed, magic marker in hand, trying to work out what I could take Will to. I wasn't yet convinced that I could get Will to go much further afield, and even with Nathan's help the thought of an overnight visit seemed daunting.
I scanned the local paper, glancing at football matches and village fêtes, but was afraid after the racing debacle that Will's chair might get stuck in the grass.
Download


Copyright Disclaimer:
This site does not store any files on its server. We only index and link to content provided by other sites. Please contact the content providers to delete copyright contents if any and email us, we'll remove relevant links or contents immediately.