(Maiden Lane #5) Lord of Darkness by Elizabeth Hoyt
Author:Elizabeth Hoyt [Hoyt, Elizabeth] , Date: November 7, 2017 ,Views: 2265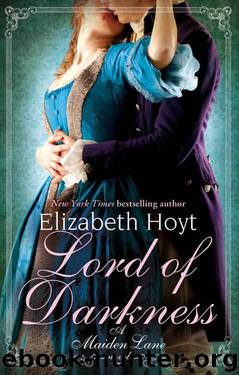 Author:Elizabeth Hoyt [Hoyt, Elizabeth]
Language: eng
Format: epub
Tags: Historical, General, Fiction, Romance
ISBN: 9781455508303
Publisher: Piatkus Books
Published: 2013-02-26T08:00:00+00:00



GODRIC CAREFULLY DISENTANGLED himself from Megs, rolling aside as his softening cock slipped from her warm depths. He wanted to stay, to perhaps hold her, and if she let him, kiss her.
But she'd made it plain that she did this without affection and he was not a raw lad.
So he stood and pulled the covers back over her form and when she made a small, questioning noise, he only said, "Good night."
Turning, he scooped up his banyan and slippers by feel and exited her room.
He'd left a candle burning in his own bedroom and he was glad of the light now. It brought him out of the too-intimate darkness, made him remember who he was.
Who she was.
But even with the candlelight, he found himself at the dresser. His fingers didn't shake when he fitted the key in the lock and he was inordinately proud of that fact.
He opened the enameled box. The locks of hair lay there, the same as always, and he reached to touch them but found that he couldn't. His fingers were still damp from Megs's skin.
"Forgive me," he whispered to Clara.
At that moment he couldn't even remember her face, the sound of her laughter, or the sight of her warm eyes. He was speaking to empty air.
Godric gripped the edges of the drawer, the corners pressing painfully into his palms, but still he couldn't find Clara.
Somehow, he'd lost her.
He was alone.
He inhaled shakily and fished through the loose letters in the drawer with fingers that now trembled until he found the one he wanted.
Download


Copyright Disclaimer:
This site does not store any files on its server. We only index and link to content provided by other sites. Please contact the content providers to delete copyright contents if any and email us, we'll remove relevant links or contents immediately.