Lumberjack's Surprise by KL Donn
Author:KL Donn [Donn, KL] , Date: June 23, 2022 ,Views: 30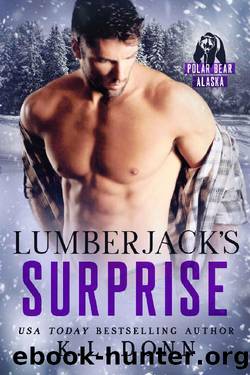 Author:KL Donn [Donn, KL]
Language: eng
Format: epub
Published: 2021-12-20T00:00:00+00:00



EmaLeigh
Slowly opening my eyes to the feeling of warmth from the sun shining through the windows facing Sebastian's bed, I realize I feel rested. For the first time in more years than I can remember, I feel refreshed, and not like I spent the night tossing and turning, constantly waiting for Damien to wake up screaming.
"Damien!" I gasp, sitting up. Guilt assaults me as I toss the covers off and pull down my nightshirt. Rushing to the room he slept in, I find the door open and the bed empty. "Oh god!" Horror washes over me as I run through the house, only to slide to a stop when I see him sitting on the counter in front of Sebastian, eating his favorite cereal and making a big milky mess.
"Mamma!" Damien grins at me but continues to eat.
"I'm so sorry. You should have woken me." I've never slept through one of Damien's night terrors, and I can't believe I did this time. "Did his screaming wake you up?" Biting my bottom lip to try and prevent it from wobbling, I'm shocked by his response.
"Nope. I've been up since about six, went to work, came back in, and he was on the floor playing with Jack. Laughing up a storm." Sebastian frowns when he sees tears forming in my eyes.
"He didn't have a night terror?" It's been nearly eighteen months since he's gone without one.
"Not as far as I know. Figured we'd eat breakfast before we woke you up." Using a cloth to wipe Damien's face, Seb helps him off the counter before going to the back door and letting Jack in.
"Mamma!" Damien runs to me, and I drop to my knees to catch his warm embrace. There is nothing in this world more genuine than my son's hugs. Closing my eyes as he wraps his arms around my neck, I savor the moment, needing to get myself grounded and push my emotions away.
He's okay.
I'm okay.
We're all okay.
Pulling back, I don't want to let him go, but as soon as he sees Jack, they're running off down the hallway towards the room he slept in and holds the few toys we brought with us.
Sebastian walks over, offering me a hand up. As soon as my fingers touch him, he drags me to my feet, hauling my body into his arms. "Good morning," he murmurs before bending down to kiss me.
Placing my hand over my mouth, I stop him, and he frowns. "Morning breath," I utter behind my palm. He rolls his eyes, pulling my hand away and stealing the kiss he wanted anyways.
It's not light or sweet this time. It's passionate and makes my toes curl and my heart rate spike to an uncontrollable beat. Our tongues touch, and it's like my body explodes as I wrap my legs around his waist. His hands move to my ass, and his fingers push beneath my panties, taking a firm hold of my ass cheeks.
"Want to know a secret?" he groans as I feel him treading before sitting down on the sofa.
Download


Copyright Disclaimer:
This site does not store any files on its server. We only index and link to content provided by other sites. Please contact the content providers to delete copyright contents if any and email us, we'll remove relevant links or contents immediately.