Loved You Once by Claudia Burgoa
Author:Claudia Burgoa [Burgoa, Claudia] , Date: August 6, 2020 ,Views: 427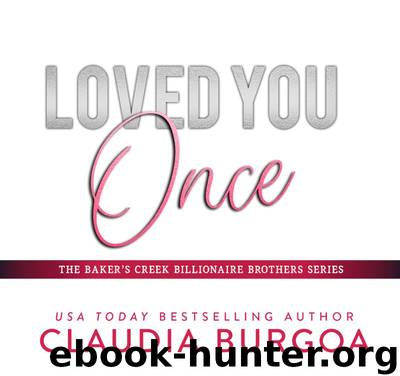 Author:Claudia Burgoa [Burgoa, Claudia]
Language: eng
Format: epub
Publisher: Cyburg Ink, LLC



Nineteen
Hayes
It's obvious I can't try to act aloof with Blaire and pretend that I'm not interested in her. Ever since I met her, I've been clear about my intentions toward her. There's something about Blaire that disarms me and makes me act like myself.
The guy who compared everything with science, watched the Discovery Channel instead of cartoons, and read fantasy and sci-fi books instead of playing video games. She's known that guy since day one. I've never hidden myself or the way I felt about her.
Before, it wasn't a problem because she felt the same, but now… I hurt her, and I have to be cautious.
It's obvious that I pushed her too hard with that almost kiss. I have to keep my mouth away from her.
Fuck, what is wrong with me?
I'll tell you what is wrong. When I met her, it was so easy to fall in love with her. Falling for her was like entering into an amazing world that I could finally call home. Even when I stepped out of that world by breaking up with her, my mind still travels back to it and yearns to be let in again.
Every single day, I crave the closeness Blaire and I shared. The intimacy, our long talks and also, I'm starving for her. She's right here, and I can't reach, touch, or even taste her.
So far, I've said all the wrong things. I have to take a step back and rethink my strategy. This Blaire doubts my intentions. She doesn't trust me, and I have to convince her that, this time, I won't hurt her. I learned my lesson. But what should I do next?
She's clearly pissed at me because, as we walk to the doctor's office, she's quiet.
Too quiet.
That's never a good sign because she's most likely thinking about how to retaliate. As we walk side by side, my attention keeps moving to her lips. What would she have done if I hadn't stopped?
I shouldn't have gotten so close to her, but when I arrived at the bakery, she looked upset, and I hate when people bother her. I had to fix it, but just leaning closer and whispering in her ear had me wanting to grab her. Which I did when she almost laughed at the Tattle lady. Having her in my arms … I came undone. It was impossible not to lose my mind and try to devour her with just one kiss.
"What's the plan?" She finally speaks, right before we're in front of the building.
"We buy him out, and we figure out how to run the practice. I researched where to get equipment, and maybe we hire a couple of new doctors," I explain. "We might need to hire more people. You're good with general medicine, and down the road, we can set up a clinic—maybe a hospital. It's part of what you do, right?"
"You don't know if I'm a good doctor. After all, I'm just a physician's assistant," she says, and there's a challenging tone in her voice.
Download


Copyright Disclaimer:
This site does not store any files on its server. We only index and link to content provided by other sites. Please contact the content providers to delete copyright contents if any and email us, we'll remove relevant links or contents immediately.