Liar's Poker by Michael Lewis
Author:Michael Lewis , Date: March 25, 2014 ,Views: 2458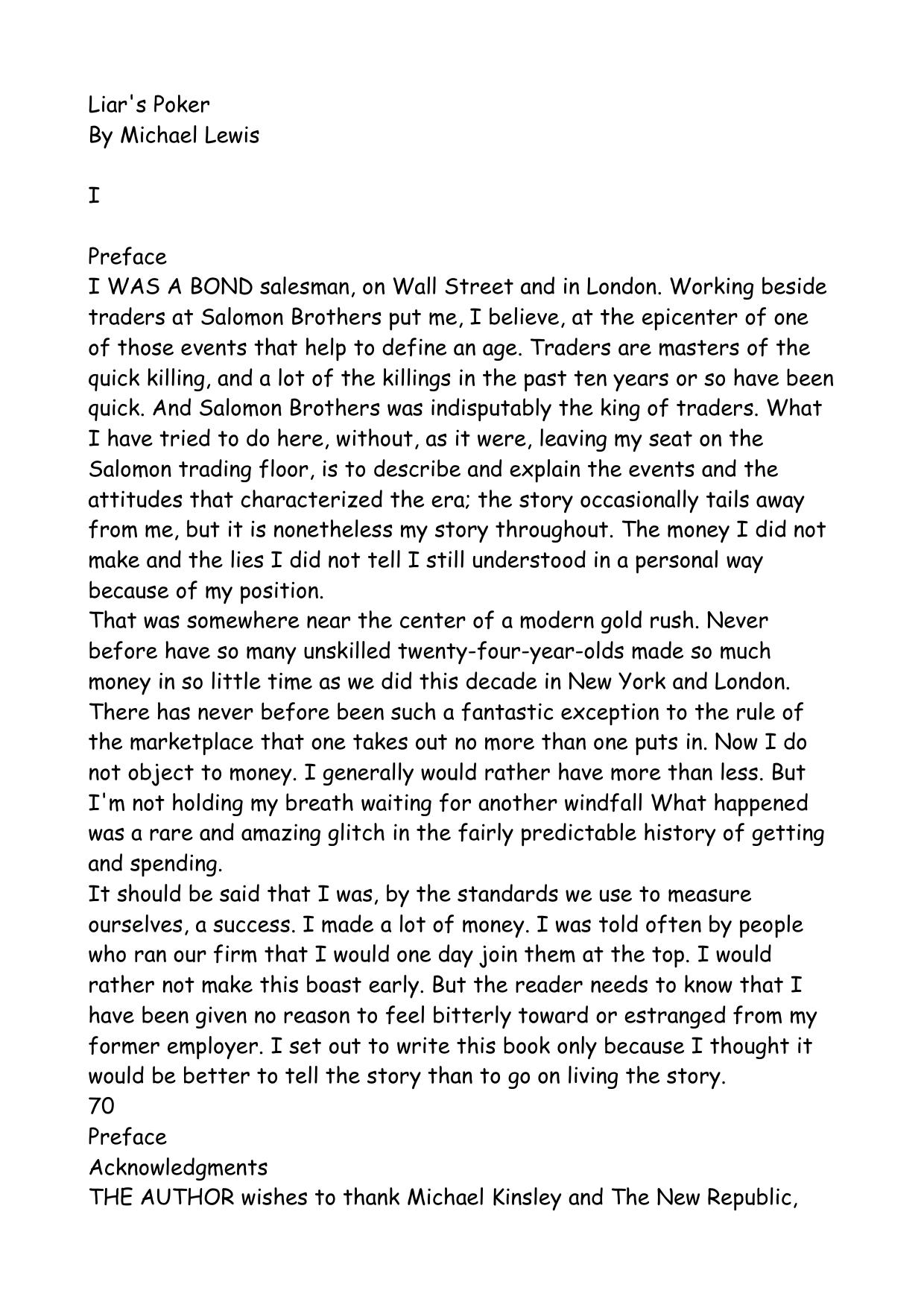 Author:Michael Lewis
Format: mobi, epub
Published: 2010-02-18T04:07:48+00:00



Chapter Seven
The Salomon Diet
1986-1988
HE BOND MARKET and the people market sought their respective equilibriums, and in the two years following the dinner at Le Perigord the mortgage department of Salomon Brothers disintegrated. A departing trader could indeed be replaced by other bright young men from the nation's leading business schools. With the million dollars Salomon saved by not meeting Howie Rubin's demands, it bought a dozen new Rubins. The replacements looked pretty much like the original. However, they didn't make nearly as much money for Salomon Brothers. For, unlike their predecessor, they had to compete with the best. Shearson Lehman, Goldman Sachs, Morgan Stanley, Drexel Burnham, First Boston, and Merrill Lynch employed former Salomon traders. There was a growing club of men on Wall Street who said with a smile that Salomon Brothers was a great place to be from. By allowing dozens of able mortgage traders to fertilize the mortgage departments of other firms, Salomon Brothers let slip through its fingers the rarest and most valuable asset a Wall Street firm can possess: a monopoly.
Ranieri & Co. had been a more airtight monopoly than even the people at Salomon Brothers knew. Between 1981 and 1985 the only noticeable competition had been First Boston, and even it, early on, wasn't a serious threat. Marvin Williamson, a Salomon Brothers mortgage salesman who moved to First Boston in late 1982, recalls that "at the time at Salomon we thought First Boston was behind every rock. Not only were they not behind every rock, [but] they didn't even know where the rocks were." Yet by the middle of 1986 First Boston could boast about the same market share in mortgage securities as Salomon Brothers. Ranieri didn't like what he saw, and he let Gutfreund know. He says, "I kept telling him, 'John, you're selling the technology for a hill of magic beans.'"
There is no chance that the rest of Wall Street would have permitted Salomon Brothers to maintain its hammerlock on the mortgage market. Eventually other firms would have caught on to our tricks because mortgages were too profitable to ignore, but the process was accelerated by our policies. The traders who left Salomon Brothers provided Wall Street not only with trading skills and market understanding but also with a complete list of Salomon Brothers' customers. Now the traders had a short-term incentive to educate the fool; show the fool how much he was paying to Salomon Brothers, and perhaps he'd give his business to you.
The transfer of skills and information probably cost Salomon Brothers hundreds of millions of dollars. In the early days of trading, mortgage bonds were profitable because the traders could buy them at one price and sell them almost instantly at a much higher price. A trader would pay a thrift in Kansas 94 for a bond, then sell it to a thrift in Texas at 95. By early 1986 margins had narrowed. A trader paid 94.5 for a bond which he might just possibly, on a good day, sell at 94.
Download


Copyright Disclaimer:
This site does not store any files on its server. We only index and link to content provided by other sites. Please contact the content providers to delete copyright contents if any and email us, we'll remove relevant links or contents immediately.