Less by Andrew Sean Greer
Author:Andrew Sean Greer , Date: August 25, 2017 ,Views: 1918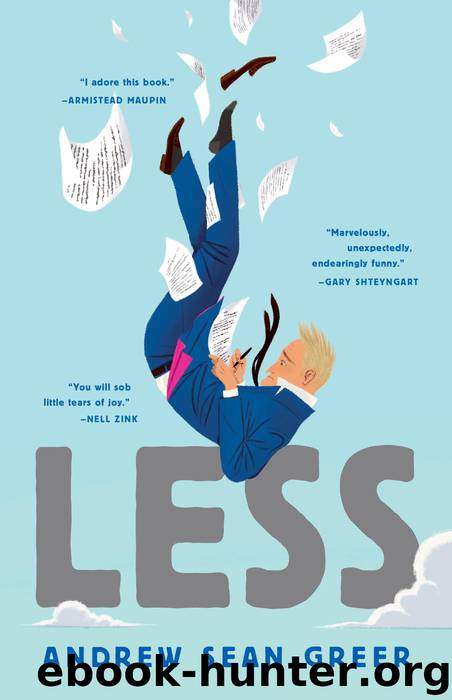 Author:Andrew Sean Greer
Language: eng
Format: epub, mobi
Publisher: Little, Brown and Company
Published: 2017-05-02T04:00:00+00:00



Fate, that glockenspiel, will turn upon the hour. Not long ago Less was lost in an airport lounge, broke, robbed, defeated—and now here he is! Walking down the rue des Rosiers with a pocket full of cash! His luggage is stowed at the airport, and he has hours in the city at his own liberty. And he has already made a call to an old friend.
"Arthur! Young Arthur Less!"
On the phone: Alexander Leighton, of the Russian River School. A poet, a playwright, a scholar, and a gay black man who left the overt racism of America for the soigné racism of France. Less remembers Alex in his headstrong days, when he wore a luxuriant Afro and exclaimed his poetry at the dinner table; last time they met, Alex was bald as a malted milk ball.
"I heard you were traveling! You should have called me earlier."
"Well, I'm not even supposed to be here," Less explains, caught up in the delight of this birthday parole, knowing his words make little sense. He has emerged from the Métro somewhere near the Marais and cannot get his bearings. "I was teaching in Germany, and I was in Italy before that; I volunteered for a later flight."
"What luck for me."
"I was thinking maybe we could get a bite to eat, or a drink."
"Has Carlos got hold of you?"
"Who? Carlos? What?" Apparently, he cannot get his bearings in this conversation either.
"Well, he will. He wanted to buy my old letters, notes, correspondence. I don't know what he's up to."
"Carlos?"
"Mine are already sold to the Sorbonne. He'll be coming for you."
Less imagines his own "papers" at the Sorbonne: The Collected Letters of Arthur Less. It would draw the same crowd as "An Evening…"
Alexander is still talking: "…did tell me you're going to India!"
Less is amazed how quickly intelligence moves around the world. "Yes," he says. "Yes, it was his suggestion. Listen—"
"Happy birthday, by the way."
"No, no, my birthday isn't until—"
"Look, I've got to run, but I'm going to a dinner party tonight. It's aristocrats; they love Americans, and they love artists, and they'd love for you to come. I'd love for you to come. Will you come?"
"Dinner party? I don't know if I…" And here comes the kind of word problem Less has always failed at: If a minor novelist has a plane at midnight but wants to go to a dinner in Paris at eight…
"It's bobo Paris—they love a little surprise. And we can chat about the wedding. Very pretty. And that little scandal!"
Less, at a loss, merely sputters: "Oh, that, ha ha—"
"Then you've heard. So much to talk about. See you soon!" He gives Less a nonsensical address on the rue du Bac, with two kinds of door code, then bids him a hasty au revoir. Less is left breathless below an old house all covered in vines. A group of schoolgirls passes in two straight lines.
He is certainly going to the party now, if only because he cannot help himself. A very pretty wedding.
Download


Copyright Disclaimer:
This site does not store any files on its server. We only index and link to content provided by other sites. Please contact the content providers to delete copyright contents if any and email us, we'll remove relevant links or contents immediately.