Leda and the Swan by Anna Caritj
Author:Anna Caritj [Caritj, Anna] , Date: October 29, 2022 ,Views: 238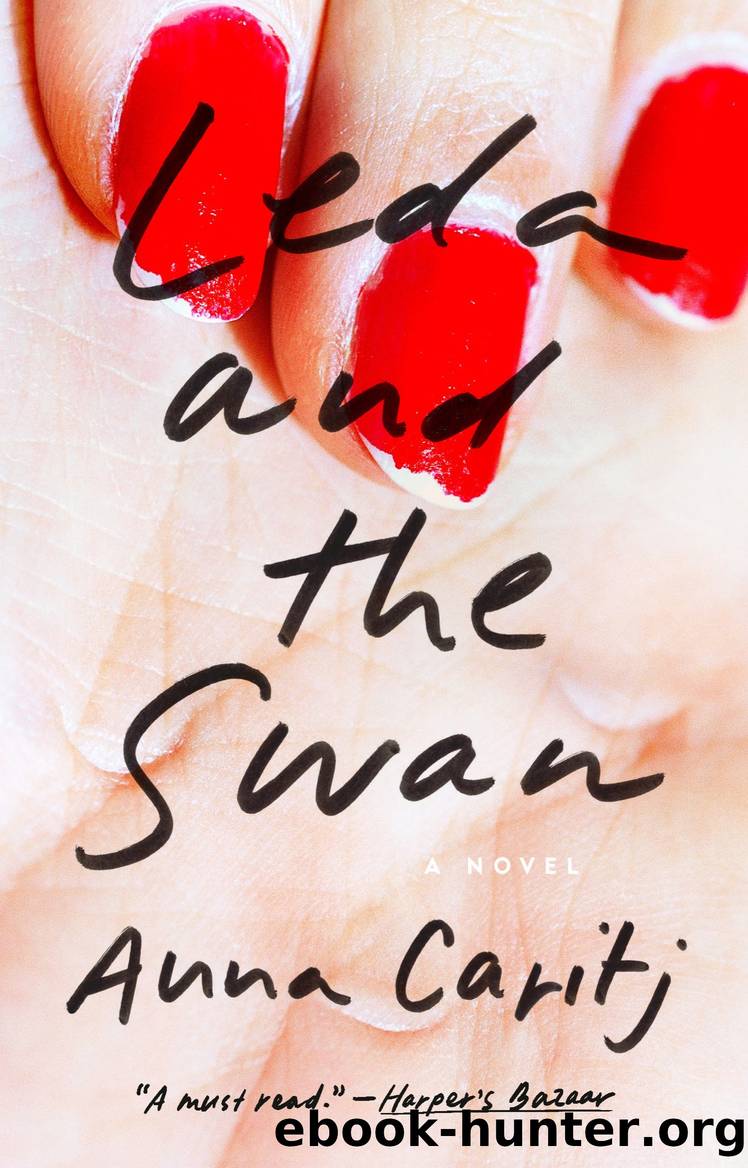 Author:Anna Caritj [Caritj, Anna]
Language: eng
Format: epub
Publisher: Penguin Publishing Group
Published: 2021-05-04T00:00:00+00:00



Although the message was short, Leda reread it, tilting the postcard toward the big, projected sun at the front of the lecture hall. Meanwhile, her professor explained that (according to the grapefruit scale) the ballpoint Earth would be about fifteen meters away from the grapefruit. Another projected image illustrated this. The Earth looked lost, tottering around that colossal mother that had (Prof was saying) a diameter of about 865,000 miles and an interior temperature of 27,000,000 degrees Fahrenheit. Earth's diameter, for comparison, was a little under 8,000 miles. Tiny.
Then the window shades lifted, and everyone shielded their eyes and blinked. Class was over. Sunlight wobbled through sycamores outside. It ain't scary, Leda thought, watching the branches swaying. She put the postcard away and closed her textbook. When she glanced up, Ian was turned around in his chair, staring straight at her. She froze. Then she got up and walked out of the lecture hall. She couldn't help thinking (pleading) as she had as a child, Chase me. The fear made it fun. Your brain knew that it was all just a game even while your body pounded, screaming, Run!
Of course, her fear had been real Saturday night with Mary. But then there had been something about finding that gun at Clarence's, picking it up, and then realizing how stupid that was. It was not Leda's safety that was in question. It was Charlotte's. Of course it was.
Not to mention that a whole quiet Sunday with no word from Ian had gotten her thinking. Thinking of him. Again, it was the law of scarcity: you take something away (even if that something scared the shit out of you yesterday), and suddenly it's the only thing you crave.
And then, needless to say, there were the snapdragons this morning.
The front doors to the building passed hand to hand as hundreds of students (Leda included) flooded out into the dappled light. For all its millions of degrees, the sun didn't feel hot, especially. She slowed, the crowd pushing around her like water around a boulder. Overhead, wood smoke wafted through sycamore branches from the Lawn's chimneys. She took out her phone, giving Ian time to catch her. She scrolled. Over a thousand volunteers had taken part in a search party on Saturday. The girl who had organized it, Monica, had already responded to Leda's Facebook message. To Leda's question—How did you know Charlotte?—she'd responded:
Are you kidding? Did anyone NOT know Charlotte?
Then she'd pasted a photo showing six girls in prom court sashes holding ice cream cones. Leda recognized Monica relatively easily, but it took her a second to locate Charlotte—her face paper white, lips red, smile immaculate. She looked completely different. The picture had been taken in front of Dice County High—a building Leda could immediately identify.
It had been obvious. Or at least it should have been. If Charlotte had grown up in Leda's county, then she and Leda had attended the same high school. Why hadn't Leda thought of this? She zoomed in
Download


Copyright Disclaimer:
This site does not store any files on its server. We only index and link to content provided by other sites. Please contact the content providers to delete copyright contents if any and email us, we'll remove relevant links or contents immediately.