Kitchen confidential by Anthony Bourdain
Author:Anthony Bourdain [Bourdain, Anthony] , Date: January 24, 2018 ,Views: 1817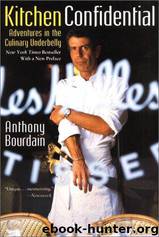 Author:Anthony Bourdain [Bourdain, Anthony]
Format: epub
Tags: General, Cooking, Autobiography, New York, Biography & Autobiography, New York (State), Biography, Essays, Cooks, Bourdain; Anthony, Beverages, Beverages - Wine & Spirits, Biography: general, Cooks - New York (State) - New York, Wine & Spirits, Wine
ISBN: 9780060934910
Publisher: HarperCollins
Published: 2000-07-15T07:00:00+00:00



PINO NOIR: TUSCAN INTERLUDE
OF ALL THE HIGH-PRESSURE, full mind-body crunches, strange interludes, unexpected twists and 'learning experiences' in my long and largely undistinguished career, my brief Tuscan interlude with New York's Prince of Restaurant Darkness, Pino Luongo, was perhaps the most illuminating, if exhausting. The owner of Coco Pazzo, Le Madri, Sapporo di Mare, Il Toscanaccio and other businesses, Pino was, and remains, one of the most controversial figures in the business, a man envied, feared, despised, emulated and admired by many who have worked for and with him.
I'll flash forward a few weeks into my account to give you a general idea of what the perception of life under Pino was. I was the newest executive chef in Toscorp, Pino's umbrella company, looking as chefly as possible in my brand-new Bragard jacket with my name stitched in appropriate Tuscan blue, standing in the front cocktail area of Pino's newest: Coco Pazzo Teatro on the ground floor of the swank and stylish Paramount Hotel on West 46th Street. A journalist acquaintance, whom I knew from Vassar, came in with a large party of high-cheekboned models and sensitive-looking young men in designer clothes. Startled to see me, he shook my hand and said, 'Tony! I didn't know you were working for Pino now!' Then he lowered his voice and only half-jokingly added, 'I guess this means that in a few months you'll either own your own restaurant . . . or be ground to dust.'
How did I, a chef with limited Italian experience in my background, a guy who up to now had sneered at Italian food, had even written a book about a young Italian American chef who'd wanted nothing more than to get away from the red sauce and garlic and Parmesan cheese of his childhood and cook French, and was willing, ultimately, to betray his own family rather than cook fried calamari-how did I end up as the opening chef of Pino Luongo's newest, high-profile Tuscan venture?
I don't really know.
I was enjoying a period of unemployment after the moribund One Fifth had finally succumbed-lying around my dusty apartment, watching daytime TV, interrupting my pleasurable torpor occasionally to fax out the occasional résumé or two-when my old crony, Rob Ruiz, another Bigfoot protégé, called me.
'Tony! It's Elvis! [Bigfoot always called him Elvis] What are you doing? I'm at Le Madri . . . They need a sous-chef? You should get down here right away!'
'It's Italian,' I said.
'Doesn't matter. Just get down here. Meet the chef! He wants to meet you. Believe me-you'll like it!'
Now, I like Rob. He's a dyed-in-the-wool, bone-deep, old-school sonofabitch-a guy who knows what's going on in every restaurant in New York, who can call up just about any purveyor in New York and get them to supply his restaurant with free stuff, cheaper stuff, better stuff, and fast. He's a prodigious drinker, a funny guy, and generally he knows a good thing when he sees it. We have a lot of history between us, all of it good.
Download


Copyright Disclaimer:
This site does not store any files on its server. We only index and link to content provided by other sites. Please contact the content providers to delete copyright contents if any and email us, we'll remove relevant links or contents immediately.