Jericho by Ann McMan
Author:Ann McMan [McMan, Ann] , Date: March 26, 2014 ,Views: 1224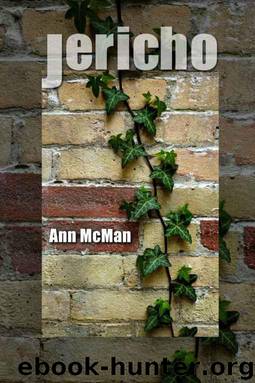 Author:Ann McMan [McMan, Ann]
Language: eng
Format: epub, mobi
Tags: (¯`'•.¸//(*_*)\\¸.•'´¯)
ISBN: 9781934452684
Publisher: Bedazzled Ink Publishing Company
Published: 2011-09-18T22:00:00+00:00



MADDIE CLEARED HER throat. "So . . . where to begin?"
Syd sipped her wine, then met Maddie's gaze. "Let me save you some time," she offered. "I gather that Gina is the infamous ex?"
"That obvious, huh?" Maddie shook her head. "And here I wanted to be all mysterious." She gave Syd a nervous look. "Are you disappointed?"
"Why would I be disappointed? She's certainly beautiful."
Maddie was surprised and slightly embarrassed by Syd's comment. "Well, that isn't exactly what I meant."
"It isn't?"
"No. But, thank you—I think."
"You mentioned to me a while back that you had been involved with someone—a surgeon, I think you said—before coming back to Jericho. Was that Gina?"
Maddie nodded.
"And that relationship ended just before you returned to Virginia?"
"Yes."
"That makes sense, now. When we first met, I couldn't figure out why someone like you was unattached."
Maddie raised her eyebrow. "Ditto."
Syd blushed. "Okay . . . I guess I asked for that. What I meant was that you seemed so not of the area—even though I knew you grew up there. It was clear to me that you had some kind of story. That's all."
Maddie considered Syd for a few moments. "Well, as you know, I only did part of my growing up there. After my parents divorced, I spent most of my time living with my mother in southern California. I'd come back to Virginia on holidays, of course, and for a month or so every summer. I saw a lot more of my father during my college years than I ever did during childhood." Syd waited patiently for her to continue. "Dad and I got a lot closer during my years at Penn—his alma mater, too. We shared passions for medicine—and for flying—and spent many weekends together hopping around in our little airplane. He was a frequent visitor to Philadelphia in those days." She smiled at the recollection. "I miss him a lot. My decision to go back there and take over his practice wasn't tough at all. He'd been after me for a couple of years to move back and join him."
"Are you glad you did?"
Maddie nodded. "I am. It just feels right. All except for the secrets I now have to keep. Sometimes I wonder how much longer I can keep it up. It feels so inauthentic—so dishonest."
Syd took a sip of her wine. "If it's not too personal to ask. Who else knows?"
"That I'm gay?"
Syd nodded.
Maddie sighed. "Well, besides David and Michael, my father knew. I don't know if he ever really managed to make peace with the information. I think he may have told Peggy Hawkes. She often lapses into this 'I know something but I'm not telling' posture whenever any aspect of my private life comes up. And, unlike every other woman in the county over the age of sixty, she never quizzes me about my personal life or tries to entangle me with some one or other unattached male."
"Well, that's a cross we both have to bear," Syd pointed out.
Maddie smiled wryly. "I know.
Download


Copyright Disclaimer:
This site does not store any files on its server. We only index and link to content provided by other sites. Please contact the content providers to delete copyright contents if any and email us, we'll remove relevant links or contents immediately.