Ivy's Rebellion (Valladares Family Saga Book 3) by Pixie Chica
Author:Pixie Chica [Chica, Pixie] , Date: October 26, 2019 ,Views: 64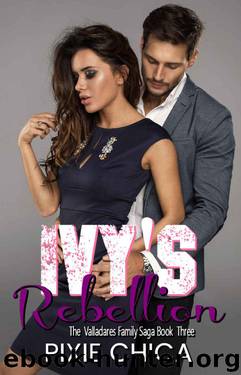 Author:Pixie Chica [Chica, Pixie]
Language: eng
Format: epub
Published: 2019-10-14T16:00:00+00:00



6
Ivy
I overslept, not waking in his bed until the afternoon, still feeling the after effects of the ecstasy we shared. I left him a note, apologizing for not being there when he returned, but letting him know I'd be there as soon as I could. Which is why I'm in my current predicament, sneaking in to grab some necessities before leaving again. My parents aren't due back for a couple days, which is good because it gives me time to do what I need to. When they're home, we'll sit down and talk on my terms. I want to be with my man and nothing will stop me. I quietly enter through the back door much later than intended, doing the walk of shame no less. Well, sort of. Is it one if others aren't here to see it? Speaking of, I wonder where Rodriguez and Fernandez, my detail, are. After reaching my room, I strip and jump in the shower. As I wash, I notice the marks on my body that proclaim me a woman that's been fucked in ways I didn't know existed. Remembering how it felt to be with him, a smile plays on my lips. I tell myself only a little while longer and I'll be in his arms again.
When I'm done and in clean clothes, I pack a bag, making sure to grab my ID and passport, then head downstairs. I'm almost to the door when I see my mom in the kitchen and our eyes meet. I instantly drop my duffle, hoping she didn't see it. "How are you feeling?" She asks, checking my forehead like she did following the party.
"Better, thank you. I thought I'd spend some time at the library. I'm surprised you and dad are home, I didn't think you were coming back so soon." I'm trying to be subtle without drawing attention to myself or the bag, so I almost miss how pale she becomes.
"Something came up. That being said, your dad wants to see you. Please do so before you head out," she instructs me and I have no choice but to do as she says. With a glance at my bag, hoping no one finds it, I send a silent 'I'll see you soon, my love,' into the air as if he'll receive it, then walk toward the office. I take a moment to really look at my dad prior to announcing my arrival. He hasn't seen me yet, and I take him in. He usually appears strong and focused when he sits behind his desk, but today he seems pensive, upset.
"Hey, pa'," I greet him. He glances at me, guilt clearly visible.
"Ivisita, entra y sientate. I was hoping to delay this conversation a bit longer, at least until after your birthday, but that won't be possible." He's never sounded so somber. There's no doubt I'm not going to like what he has to say.
Closing the door, I take a seat, asking, "What's up? You're scaring me."
He takes
Download


Copyright Disclaimer:
This site does not store any files on its server. We only index and link to content provided by other sites. Please contact the content providers to delete copyright contents if any and email us, we'll remove relevant links or contents immediately.